So you want to start your own online ecommerce store? GREAT! I started my own online store a couple of years ago and I'm getting a healthy profit from it. In this beginner guide to starting an online store I'm growing to guide you through all the steps you need to start your own store. Let's dive right in!
1. Determine what you want to sell
If you already know what you want to sell, skip this part 🙂 If not: there are a lot of things to consider before you choose a product / vertical / category to dive into with your online store.
I think there are 4 main things to consider when you choose what type of product(s) you're going to sell.
The type of product you want to sell
Your affinity with the product
Level of competition
Consumer / business demand
A virtual product? A service? A physical product? What will you sell?
If you start your own online store, that doesn't mean you have to sell physical products in your store. You can sell whatever you like. Once we get to step 5, the creation of your store, I'll explain exactly how you can setup your store for different types of products or services. While you're still in the idea phase, don't exclude the things you might not have thought about like selling a virtual product.
You have to realise that selling a physical product has a lot of downsides to it. They can perish. They can be returned (which adds to your costs). Someone has to keep stock (which also adds to your costs).
Have you ever really thought about selling something other than a physical product?
What virtual products can you sell through your store?
Ebooks
By far the most popular virtual product is of course the ebook. Create once. Sell unlimited times. Ebooks as opposed to normal physical books are a lot easier to create. They are cheaper to make. Easier to distribute. Cheaper to translate.
(Video) course
Do you have knowledge you'd like to spread? Is educating other people something you really enjoy? Then creating a course might just be the thing for you.
The hardest thing about creating a video course is the preparation. You probably need to put between 2x – 4x the amount of time in preparation versus the amount you record your actual course. You need to script a lot of it. Even experts still have to prepare their courses.
Software
Even a simple web based tool can be software you can sell. You don't have to build a virus scanner or an Operating System like windows before you can charge money for software.
You don't have to be able to code to sell your own software. If you have a great idea for a piece of software that doesn't exist yet, ask someone else, like freelancers on Upwork to code it for you.
There are literally tens of thousands of web developers and software engineers on that platform. You do have to type out every little detail of the software you want made. What are the things people need to do with your software? What are the User Stories? (A User Story is something the customer wants to do with your software. Like: I want to create a Bingo card. Once the Bingo card is created I want to be able to print it on paper)
What does your software look like? How do you want the User Interface to look like? If you have no clue how to create a User Interface, hire someone on Upwork to do it for you. Just tell the person what you want someone to be able to do. They can make the design for you. The design can be given to the programmer so he can add functionality to the design. Eventually creating a piece of software you can sell.
Audio
With the advent of Spotify and other music subscription services I believe there's not much to win in the audio space which you can sell on your own online store.
A lot of what you could sell with audio is replaced with video. Why pay for a language course on audio only when you can get it with video too? Why sell a song on your store while someone could just listen to it as part of their music subscription?
You can nevertheless sell audio trough your online store. I would concentrate on sound effects and samples.
Photography and digital art
If Photoshop and Illustrator are your tools, you can create some beautiful images, design patters and icon packs you can sell through your own store and via 3rd party stores.
Even though the photography has been completely commoditized in the past few years with Stock images, you can still make a fair amount with non-stock looking photo's.
What are the things you have affinity with? What do you like?
If you're selling a product you know nothing about. You couldn't care less about. You're indifferent to it… That's not a good start to your online store. You should be enthusiastic about it or at least know a lot about the product (vertical).
When you choose a product that you have an affinity with, you'll be able to select the product that would fit your needs. If it can solve your problem of make your life happier, you can probably make someone else's life happier too.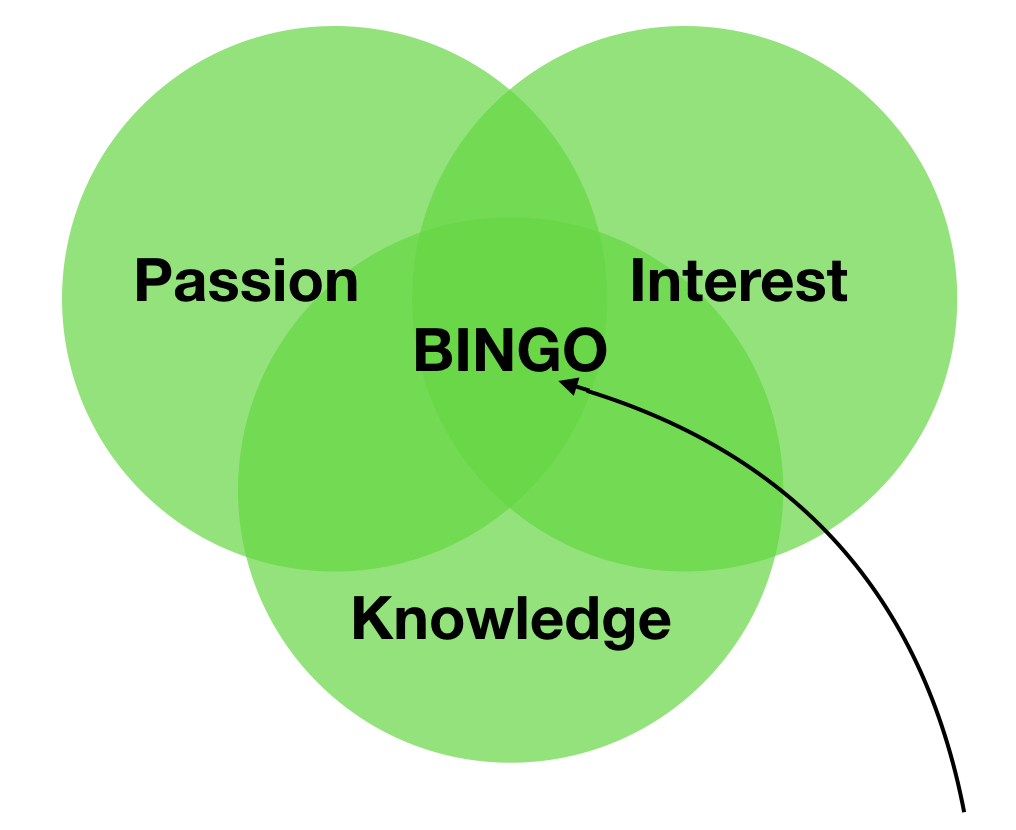 If you can find a product you know a lot about, that's very interesting to you and you're passionate about… You've hit the jackpot. The only thing you have to worry about if the level of competition for the product. We'll get into that in a little while.
Open a spreadsheet and write down where your passions and interests are and where your knowledge is. If you can honestly say that you qualify in all three columns, you should have a look in that space what products are out there and what you could sell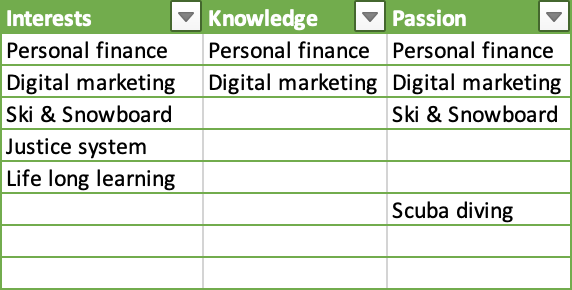 How to determine the level of competition
Everything is already sold on Amazon right? Wrong 🙂 Generically speaking you are right though. Almost everything is already being sold on Amazon (or your local equivalent). But that doesn't mean there's no room for your product.
I have a couple of different methods to determine the level of competitiveness. One is to do a google search for your product type like so:
intitle:my product type

So I did this search for a product called an avocado slicer. I bought one for my mother in law who is always in the kitchen and who's a great cook. There are only 8900 pages which talk specifically about an avocado slicer. That's not much. Thats like, nothing. If you compare that to running shoes:

There's a 20x bigger competition. 180k versus 9k pages. There's one problem though. How much search volume is there on your product?
Signup for a Google Account if you don't already have one and head over to the Keyword Planner. You can fill in any keywords and see the search volumes.
Surprisingly there's still quite a bit of volume on avocado slicers. A factor 50x less than running shoes but still a decent amount. If I was passionate about cooking, knew a lot about it and it was one of my core interests, I would definitely consider selling this product.

If we zoom out a bit, we cal also see what the competition level is and how much people are bidding on the keywords. Take these numbers with a grain of salt. You should just use them as a high level comparison. Not as exact science.

Head over to Google Trends and see if your product is rising in search volume or interest is dimming.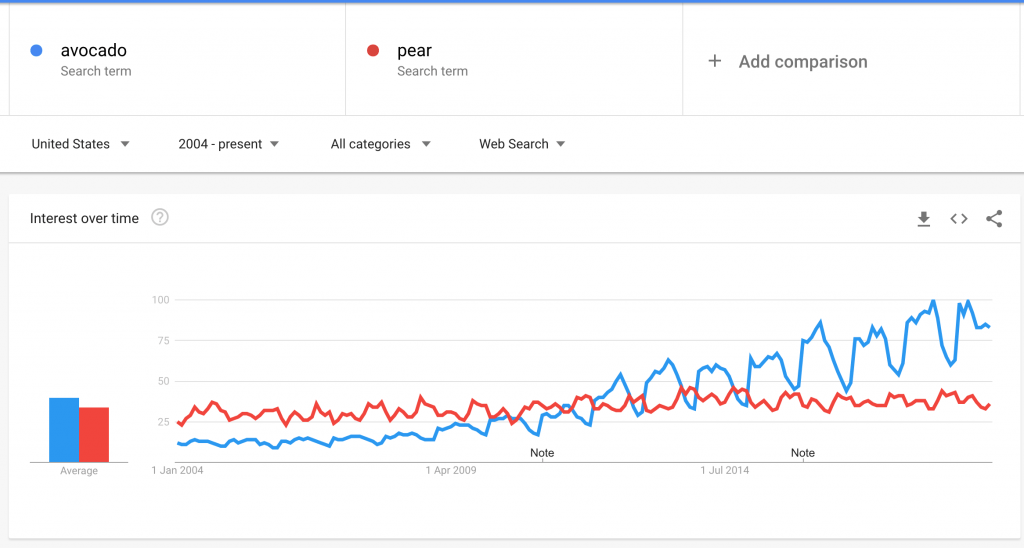 Pears are flatlining. So selling a "pear slicer" will probably not be as lucrative as an avocado slicer because you can't benefit off the bigger slice of the pie, the market that's becoming bigger. There are always more opportunities in a growing market. There's less emphasis on price. You can grow even though you might not be growing in total market share. Don't jump in a market that's on a decline. You'll fight over nothing but price.
Whether you like it or not, you're probably competing with Amazon. The more products in your niche are available on Amazon the more competition you have. You can use Junglescout (they have a free trial) to check out the competition on Amazon. You can also check out the amount of sales people get from their products in your niche.
2. Create a plan how to differentiate yourself
There are not a lot of companies making money with an online store. You need to really differentiate yourself from the pack. Tracey & Wiersma have been one of the founders of a concept that can create competitive advantages. You can choose either one, but I'll tell you which one you should choose. There's also a threshold before you're really competing on a level that actually has impact for the customer.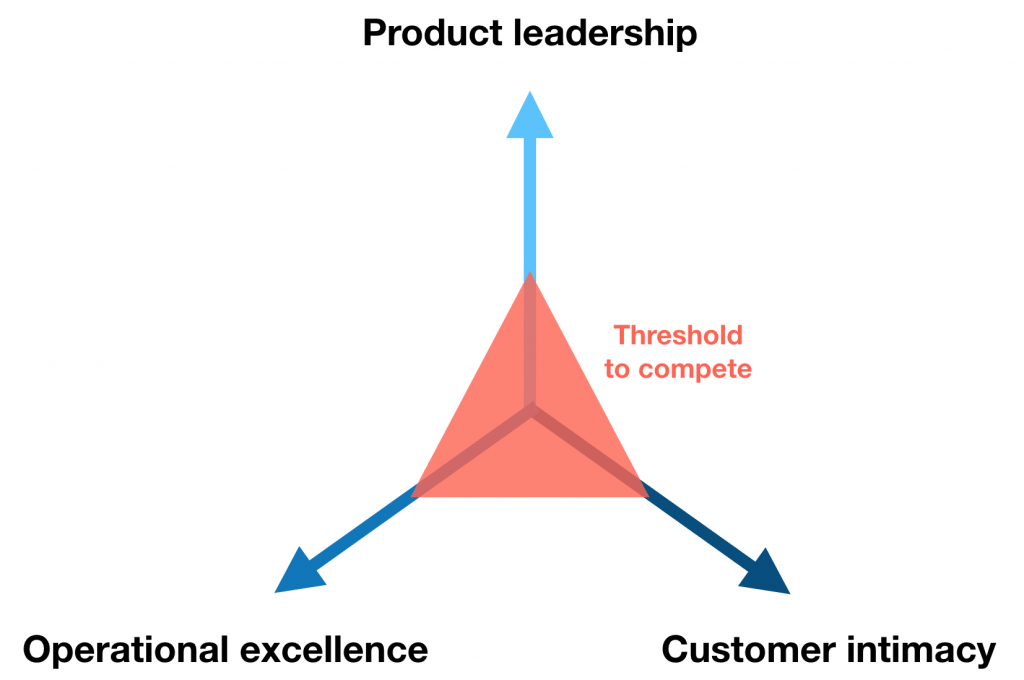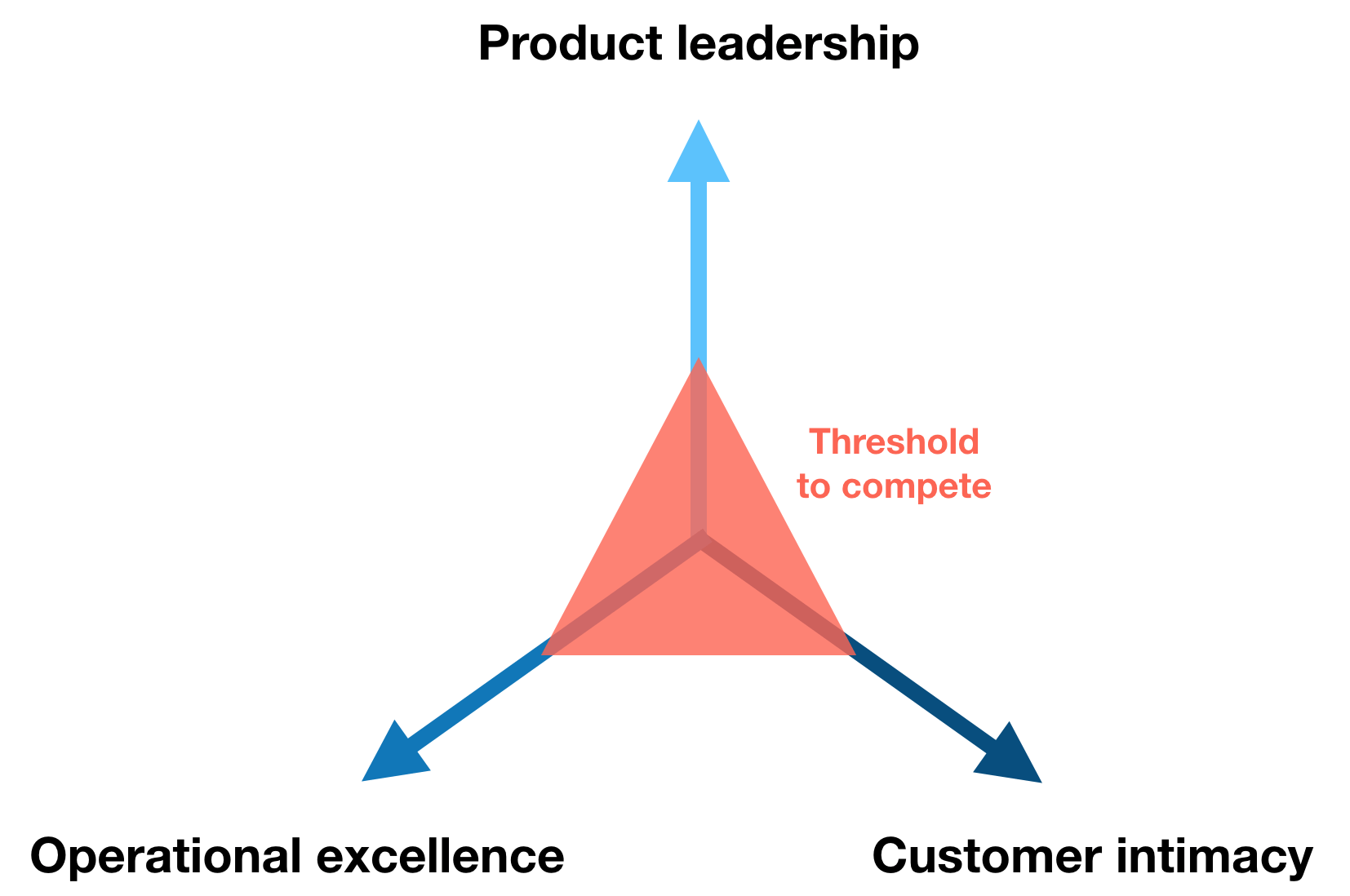 Product leadership
When you're aiming to become a product leader, you offer your customers the best possible products. If you're not a manufacturer, or if you produce private label products, it's very hard to become a product leader. You're the one that brings cutting edge products to the market. That means investing in R&D. Knowing what your customer want and knowing where the marketing is going. If you're a small business, this is very very hard to do. So I would not advise you to become a product leader unless you have a background in product engineering or something similar.
Apple is a real product leader. They build amazon products everyone wants. Their facial recognition is still the best even after it has been introdoced  years ago. The Apple HomePod is (sound wise) 10x better than Amazon's Echo. People buy their products. They don't need to get sold on them.
Operational excellence
Amazon is a fantastic example of operational excellence. For 10 dollars a month you can get free shipping on all your purchases. They have an abundance of products on their platform. Over 50% not even their own stock, but stock from 3rd party resellers who compete on price. They have so many products that you could almost see them as a product leadership. But because they don't make state of the art products they're not a real Product Leader with their stores. You could see them as Product Leader with their Cloud platform.
Because Amazon is such a huge brand and sells to so many people around the world, they have a huge server park. They're able to rent parts of it out to online businesses who also want reliable lightning fast web servers.
If you want to become a company, an online store, that focusses on operational excellence, the end came is the lowest cost to the client. Because you're still small, you have no purchasing power. Your cost of purchased goods are higher because you can only buy 10 in stead of 10,000. Your shipping costs are higher because you ship 10 in stead of 10,000. Etc. So you have no bargaining power whatsoever.
Customer intimacy
Thats means there's only one real road you can follow. The customer intimacy road. If you're a small business, this is the way to differentiate yourself from the pack.
Know your customer. Know what they want. Surprise them again and again. Treat them as if they're your friends. Talk to them as if they're family. Use the fact that you're small to your advantage. Why do you think "influencers" were born? Because they're real people who interact with other people. Not a company who acts like a company and talks to you like you're a robot.
The most important part of customer intimacy is to always think from a customers' perspective. How would they like this? Why would they need this? What's in it for them?
The threshold criteria
In order for you to have any benefit from choosing a Tracey & Wiersma strategy, you need to have a certain number of "check marks". You can't do a little bit of this and a little bit of that.
Free shipping and an Instagram account where you tell your followers what they can do with your products isn't going to cut it. You need to have enough to move the needle and for people to recognise and see you the way you want to be seen.
These would be my suggestions if you want to meet the threshold for customer intimacy
Have at least one or two Social account where you post regularly (like a normal human being)
Email your customers to say thanks. No auto responders. No discounts. No questions. Just thank them.
Show yourself on your online store too. Your face should be on all a lot of pages
Have a really extensive about you page. Tell people your story. Why you started your store. Why they should shop with you
Do AMA's (Ask My Anythings) on a monthly basis. You want to create a relationship between you and your followers / customers. Be their friend. Be close
3. Decide on your store's brand and domain name
You should have enough information now to determine what you're gonna sell. For this guide we'll focus on a product with a customer intimacy strategy. Most people still open new ecommerce stores to sell physical products.
There's only one way really for small businesses to get a decent income with an online store. Like I said before: focus on customer intimacy. With customer intimacy it's about 2 things. Up and foremost the customer. But the customers comes to your store because of you. Because you're you. You're human. They can relate to you and to your life. If you can bring those two as close as possible, you have a winner.
My suggestion for a brand name and subsequently your domain name is the following:

Your brand should already tell a story. A struggle. A battle. A fairytale.
There's a (semi) famous cosmetic / skin care company called Paula's Choice. I heard her story once in Amsterdam. How she started and why she started. She told her journey. The only reason why people buy from her is because they can relate to her story and believe (in) her. Unfortunately the company got acquired by a private equity firm in 2016 and has left the customer intimacy strategy. They are now more on route to become a product leader, with subsequent "feedback" from their audience like:
The company was doing great with the customer intimacy strategy. That's why the company was so successful. Don't for a second think that you can't be successful is you don't have the lowest prices of the biggest assortment of products..
Take example of Paula's Choice prior to 2016. Don't start an online business because you think it's cool. Start an online business because you have a story to tell people can relate to.
Coming back to your brand name and domain name: tell a story with it. Use a tool like Namelix to help you in your journey to find the perfect name.
You can fill in some words and Namelix will gather related words. In the example below I just used my first name and looked at what came back. I'm not saying you should use your own name. But it should be something close to you. Not a name that a robot made up.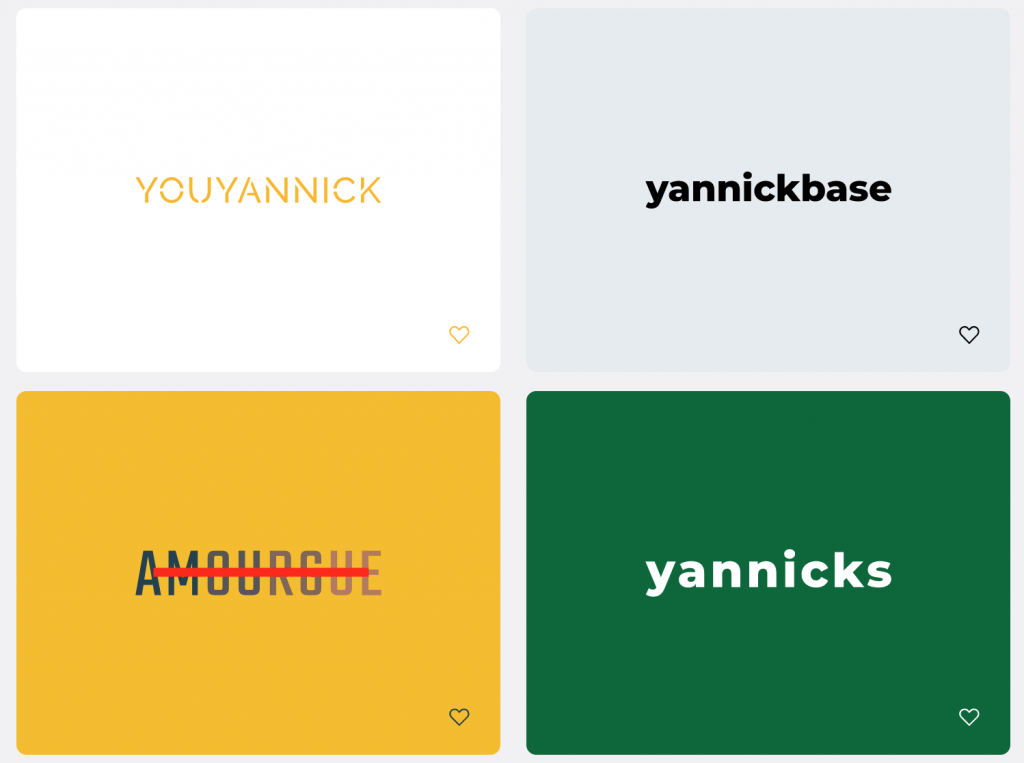 For the domain name: try to keep it as short as possible. Shorter names are easier to remember. For that purpose you should also have a short brand name. A maximum of 20 words. Best is to match the brand name with the domain name.
For the domain extension (like .com .net .org Etc) you should use your local equivalent. If you live in the US use .com. If you live in the UK use: .co.uk. People can relate to that. If you live in The Netherlands but use .com while .nl is the normale domain extension you'll immediately lose some customer intimacy l0vvvvvv.
Use a whois checker to see if you domain name is still free. You can fill in all the domain names you came up with and check if they're still free.
4. Decide if you want to hold stock or not
Have you ever heard of drop shipping? It's a strategy of inventory management where you don't keep any stock yourself. You have your orders shipped directly from the supplier to your customer.
The difference in cost between keeping inventory,  dropshipping and using an external warehouse
| | | | |
| --- | --- | --- | --- |
| | Keep inventory | Drop shipping | External warehouse |
| Investment | High | Low ⭐⭐ | High |
| Shipping time & returns | Faster | Fast | Fastest ⭐ |
| Monthly cost | None ⭐⭐⭐ | Low | High |
| Shipping cost | Normal rate | Cheaper | Cheapest ⭐⭐ |
| Margin | High ⭐⭐ | Lower | High ⭐ |
Let's dig in a little deeper and compare the to different strategies.
Investment
If you want to keep inventory at your own place you first of all need some space. My girlfriend sells jewelry and paper cards (baby shower, birthday invited, stuff like that) from home. All her inventory fits in 4 medium sized cabinets. We have plenty of room for all het stuff to be stored. If you sell clothing on the other hands, you'll need a couple of rooms to store your inventory probably. So when you make the decision what you want to sell, take into account how much space it's gonna take up. If you can't keep it at your own house, you'll immediately incur costs to store it somewhere else.
If you do have the space to store your inventory at home, you still need to buy it wholesale. Normally you can't buy 1 item from a wholesaler or a manufacturer. Or you can, but you'll pay a lot more per unit so you won't be able to sell it at a price point where you make enough margin.
If the same wholesaler / manufacturer also provides dropshipping, you can compare prices and margins.
If you want to keep inventory at an external warehouse, you still have the high investment like you would if you kept your stock at home, but your shipping costs and shipping times are much better. Your margin is a bit lower because they charge a fee per SKU you keep at their warehouse. You also get charged for every stock item they process and even more if you ask them to add EAN codes to your products. You have to invest a bit more in packaging and shipping if you keep your inventory at a warehouse. Your products are first shipped to you. You check them for quality / add EAN stickers and make the products compatible to be kept in the warehouse. Then you ship them to the warehouse. That's the part of the warehouse process that costs a bit more money and time.
The other downside is that you're charged a monthly fee to keep your stock in their warehouse. It's based on the number of different SKU's you have stored (a SKU is just a hard word for different products) and based on the amount of products from one SKU you have stored. If you don't have a lot of sales data it will be harder for you to determine how much stock you should keep at a warehouse. That either inflates your (monthly) costs or, if you don't have enough stock, will hamper sales. Plus you're making your investment amount dependent on more factors. That usually means you make poorer decisions.
Shipping time & returns
The fastest shipping is obviously via an external warehouse. The problem can be that they charge you more if you want to offer next day shipping until later in the day. Say 8 PM or 10 PM. Other than that, they can probably offer better shipping times than you could ever do because they have big contracts with the postal companies. The warehouses are able to ship all their products with a big truck directly to the main sorting centres that's not open to the public.
Returns are easy to do via the warehouse. Everything is automated. You pay a fixed fee per returned item. The shipping cost to return something (if you offer free returns) is a lot lower then if you would do it yourself. The problem is: returns aren't very carefully checked for quality and it's hard to get a hold of the warehouse for specific questions about shipments.
With dropshippers you usually have the worst shipment times. The close their shop earlier. They might not always be fully stocked. They give priority to bigger stores. So as a small business you always come last.
Returns are a hassle with dropshippers. They normally don't accept them. You have to take care of that yourself. So all the returns will probably end op at your house and it's hard "to get rid of them" once you have them in your possession. For example: what happens if you sell one of the items you have at home and one that's at the dropshipper? Do you incur shipping costs twice? Do you have it al sent from the dropshipper? Write off the stock you have at home? Probably the best solution is to have a sale once a year with all your returned items.
If you hold stock at home, your shipping time is OK. The problem is you always have to be at home at the end of the day. Next day shipping until 5 PM? You have to be home before 5 PM every day to package all your orders and bring them to the nearest post office.
Offering free returns if you hold stock at your house is almost impossible to do cost wise. Margins are usually too low to be able to give free returns. That in return hampers sales. People want to have free returns as well as free shipping. They're used to it because a lot of big retailers offer it.
Monthly cost
Normally if you keep stock at home or at a dropshipper, there's no monthly fee involved. Only when you need to rent a separate space for your inventory will you incur additional monthly costs. If you start to grow you can also ask the dropshipper to keep some stock for you. They might ask a monthly fee for that too.
The monthly fee the warehouse charges is probably your biggest hurdle to deciding wether you want to use a service like that. Because wether your sell something or not, you still have to pay them for the space. You're actually renting a piece of their warehouse and that costs money.
You won't go broke on the monthly costs though. Normally these warehouses charge anywhere between 1 and 10 cents per product, unless you sell something like TV's. Amazon charges per cubit foot. Others charge per product. If you store 50 different products and have 10 items of stock an average per month you pay 25 Dollars a month when you're charged 5 cents per product.
Prices are of course a lot higher in the holiday season. Usually starting in October monthly storage prices triple or even quadruple. That's also usually when you have the most stock available. Don't be surprised if those 25 Dollars turn into 200 – 400 Dollars over the course of October through December.
You can really save on the fulfilment part. It only costs you a bit of time to package an order. If you package 20 orders a day, you can easily save 20 – 60 Dollar on fulfilment. The downside is you have to be at home like I talked about before. Plus you have to pay / process returns.
Shipping cost
When you're a small business, you have no leverage with shipping companies. In order to get a better deal, you need to hook up with the next best thing. Brokers who make deals with shipping companies. In Europe there is a big one called Sendcloud. In the US you can use a tool like Shipstation. I don't know however, what the savings are on shipping rates.

One thing you can do to save on shipping is register for an online account for your preferred shipping company. I know UPS gives you a discount if you register online and register your shipments online.
My girlfriend prints here own stamps with a sticker printer. It saves her a few cents per order. She only sends her orders in envelopes that fit through the mailbox so her costs are also a lot lower.
The dropshipper should have a little bit better shipping rates than you. But they might not transfer that on to you. So you probably won't save on shipping cost.
The cheapest shipping option is the external warehouse. With the external warehouse you can't split the fulfilment from the shipping costs though. Fulfilment is a big part of the total cost per order. For the smallest items you have in stock, it will be cheaper for you to send them. Same goes for the largest items I think. The only thing where you can really save on is the bulk or your products which fit certain dimension. Use the online tools from the warehouse companies to see how much they charge per product category.
If you're looking at ways to optimize for margin… Don't store everything at the warehouse. Only the products where you save a lot on shipping. Worst case scenario the customer receives two different packages. Only do this if you save a lot on shipping cost.
One last tip. If you're considering to store your stock at home, you can also save money on shipping by integrating with shipment options your ecommerce store software supplies you. Go to step 5 to read more about this.
Margin
If you have a steady flow of orders coming in. You know approximately how much you're gonna sell and you ship a lot of medium sized products. (Medium sized meaning bigger than jewelry and smaller than tv's / chairs) the warehouse option will probably give you the best margins if you look at total cost for one order.
You still have high investment costs because you need to buy your product(s) in bulk to get the best prices. But you'll save a lot on returns and shipping. It all comes down to being able to estimate the amount of sales per day/week/month in order to optimize the stock you hold at the warehouse. The better you can work with a Just In Time method of inventory management, the lower your total costs will be and the higher your margin. Just In Time is nothing more than optimizing your inventory flow so the moment the last product is sold your new shipment of products to the warehouse just arrived. The average number of products held in the warehouse will be lowest. The investment made as well because you bought just enough to last you until the next cycle.
For a small business however, this is near impossible. You need at least 3 years of sales data. You need a really streamlined purchasing flow. You're just not big enough to optimize for JIT yet.
If you don't order your stock in bulk but use a dropshipper, your margins will be lower than when you have it shipped to you or the warehouse. This can be anywhere between 10% and 40% difference. Quite a lot. But if you don't have the money to buy in bulk, you have to use a dropshipper. Try to hold on to as much cash as you can for each sale you make. In time you'll have enough money to invest in your own stock.
If you have steady cashflow you could also ask a bank to finance you some working capital. With the working capital you can immediately improve your margin with 10% – 40%.
5. Create your online store
Now that you know what type of stock management and inventory system you'll use, you're all set to GO AND DO STUFF!! To setup your online store and (almost) start selling.
This is where the fun begins. Because there are so many tools out there that allow you to sell online.
Some are free to use / open source. Others require a one time fee and some require you to take a subscription on their service. I'll walk you through the options I believe are best for a small business who's just starting out.
The below table is when you do everything yourself with the default options. Shopify is always hosted by Shopify themselves. That's why it's easiest to setup for example. You can get hosting with Woocommerce, Prestashop and Magento. But the only real advantage you get is that you don't have to do the setup.
Woocommerce
Woocommerce "lives" on the WordPress platform. You can download a plugin for WordPress to run Woocommerce on your blog. You can also complete forego on the blog part of WordPress and only use the shopping functionalities Woocommerce has to offer. You don't really need prior experience with WordPress even though the two go hand in hand. You can create amazing content with WordPress and sell through Woocommerce.
The software is free to use. They sell add ons which are pretty reasonably priced.
Shopify
Shopify is a standalone ecommerce store. The only way you can use Shopify is with a subscription starting at 29 Dollar per month. The biggest advantage of Shopify if you ask me, is the discounts you get on shipping fees and credit card fees. If you sell for a few thousand Dollar a month you should easily make back the 29 Dollar a month you're paying for the software.
The downside is the vendor lock in. Once you're on Shopify it's hard to get off. All your data is in there. They don't make it impossible for you but it is a lot harder to migrate to Shopify from other online stores.
Prestashop
Also used by a lot of people. Just not really well known. I think it's pretty good ecommerce software. The only thing I don't really like is the expensive add ons. They really charge a hefty premium for basic add ons like an SEO add on. In my honest opinion I think this should always be part of any online store and you shouldn't have to pay so much money (over 200 Dollar at the time of writing) for such a basic and must have feature.
It's also a standalone ecommerce store. So it's optimized to only sell sell sell. Quick search functionality. Fast response on the right web hosting. Pretty good!
| | | | | |
| --- | --- | --- | --- | --- |
| | Woocommerce | Shopify | Prestashop | Magento (2.x community) |
| Setup easy? | ⭐⭐⭐⭐ | ⭐⭐⭐⭐⭐ | ⭐⭐⭐ | ⭐⭐⭐ |
| Speed | ⭐⭐⭐⭐ | ⭐⭐⭐⭐ | ⭐⭐⭐ | ⭐⭐⭐⭐ |
| Ease of use | ⭐⭐⭐ | ⭐⭐⭐⭐ | ⭐⭐⭐ | ⭐⭐⭐ |
| Features | ⭐⭐⭐ | ⭐⭐⭐⭐ | ⭐⭐ | ⭐⭐⭐ |
| Support | ⭐⭐ | ⭐⭐⭐⭐ | ⭐⭐ | ⭐⭐⭐ |
| Base cost | ⭐⭐⭐⭐ | ⭐⭐ | ⭐⭐⭐⭐ | ⭐⭐⭐⭐⭐ |
| Savings (ship / cc) | ⭐⭐⭐⭐ | ⭐⭐⭐⭐⭐ | ⭐⭐⭐ | ⭐⭐⭐ |
| Base fee per month | $13.99 | $29 | $7.99 | $9.95 |
| | Start with Woocommerce | Start with Shopify | Start with Prestashop | Start with Magento |
I host all my websites and online stores myself. But if you're just startign out as an online entrepreneur you should buy yourself a hosting package. That's the easiest way to start. You don't need any technical knowledge. You can just click your way through the setup and you'll have your store up and running in a matter of minutes.
If you do have some technical knowledge about web servers and stuff, you could consider hosting it yourself. All ecommerce software I mentioned except Shopify can be self hosted. Shopify use to have a WordPress plugin but they stopped supporting it a while back.
Easy to setup
Shopify is the easiest to setup. It was built as a standalone shop. The primary reason why Shopify is so popular is because there's no programming involved in setting up your online store.
With Shopify you can just start your 14 day free trial by filling in some really basic details.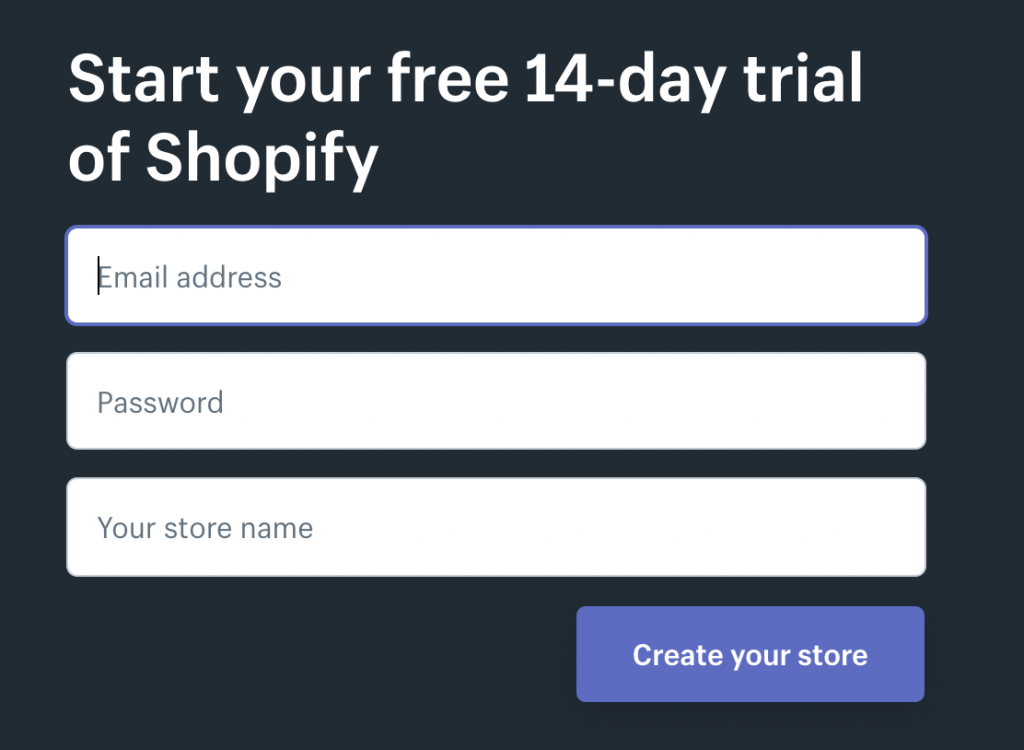 Woocommerce and Prestashop are equally easy to setup with Bluehost. You can install the online shopping software with a few clicks and setup is pretty easy to go through.
Magento is the most extensive software around. It also takes a bit longer to install and configure. Magento was one of the first ecommerce store software around. Started over 10 years ago and it has a very large community of people who're constantly updating the software and building more modules for you to use.
Speed
On the right hosting package, all of the above mentioned stores run well. Take into account that once your online store grows and you get more traffic and sales, that you should go to a dedicated server. That means your website is the only one hosted on it. It's faster but also a bit more expensive. Once you're above the 1000 Dollar / month mark is a good time to check your options.
The speed of the software is also greatly influenced by the number of products you have in your store. Magento and Shopify are the best when it comes to having a lot products. You do need LiteMage caching with Magento to take full advantage of Magento's speed capabilities.
Ease of use
This is more a taste kind of thing. I like Woocommerce a lot because I've worked with it before. Same as Magento. Once you get to know Magento, it's a very nice system to work with, but it takes a long time. It has so many options, it's such an extensive ecommerce software, it takes a long to get to know and years to master.
Shopify is easier to use. Made for people who're not used to running an online store.
Support
Shopify is Software as a Service (SaaS). That means you pay for the software to use but you also pay for some level of service. Bugs get fixed quick because you pay for the software. There's an extensive knowledge base where you can lookup how to setup Shopify and work through issues you're having.

If you haven't purchased a module for Woocommerce, support is only through their forum. There's no way to file a ticket of get into contact for a support question if you're a free user. That's also why it's free. Remember: there's always a cost to free. Once you gain traction with your online store, it's important to move away from free. Because free starts to cost money when your livelihood depends on it.
The same goes for Magento Community edition and Prestashop. They are free and that comes at the cost of not having priority support and having to rely on the support forums. If you've paid for a module on Magento you can get support from the company who your've purchased the module from. Most modules you pay for are created by the community. So you can't get support from Magento themselves.
Base cost
For the amount of functionalities and options you get from Magento, it's the best value for money (you paid nothing for the software just for the hosting). I think Magento has by far the most needed and most necessary functionalities available in its free community edition.
Prestashop is a bit less expensive to run. It's not as extensive as Magento so you don't need a super fast web server to run it. Hosting is subsequently a bit cheaper than Magento hosting. Prestashop itself has fewer options than Magento.
Woocommerce hosting is a bit more expensive again because you need to run WordPress + Woocommerce on one server. Woocommerce has quite an extensive suite but definitely not as extensive as Magento or Shopify.
Cost saving
If you are really serious about your online business I think you should choose Shopify. You pay a little bit more when you start out but you get the most discounts because you're on a paying plan. So once you reach a few thousand dollar of revenue you'll start to see the scale swing. It's also a good to pay for something because it encourages you to really make something out of your store.
All the cost saving is built in the software already. No need to download any other plugins or modules. Just benefit from the savings immediately.
Which one to choose?
If you're planning on sell hundreds if not thousands of products, I would go for Magento. It's ready for large volumes of products. It's optimized for high volume high traffic. It has the most options for the least amount of money.
If you're planning to sell up to one hundred products. Grow organically, go slow but steady, I would choose Shopify. You don't need any technical knowledge. It's installed in less than 10 seconds. Shopify has a nice guide for new users that takes you through all the steps you need to take before you can launch your store.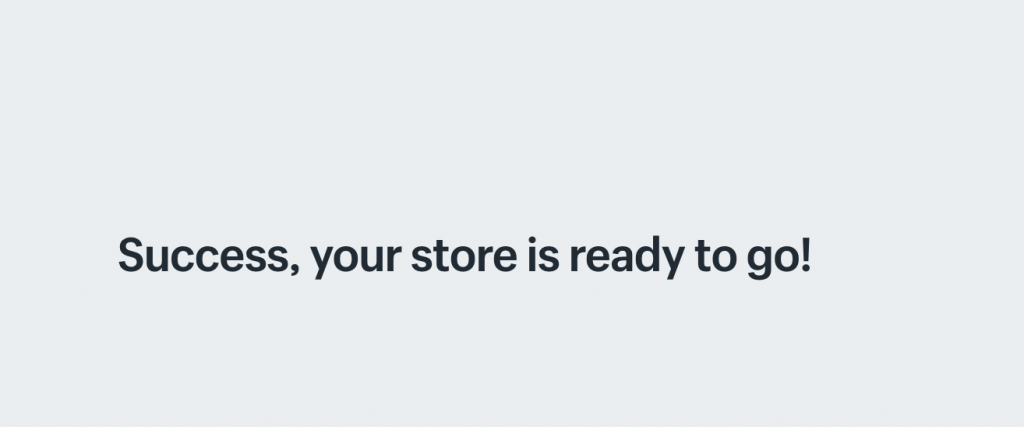 Once the creation is done you can be ready to launch your store in minutes.
Start by adding your products. Click on the purple button.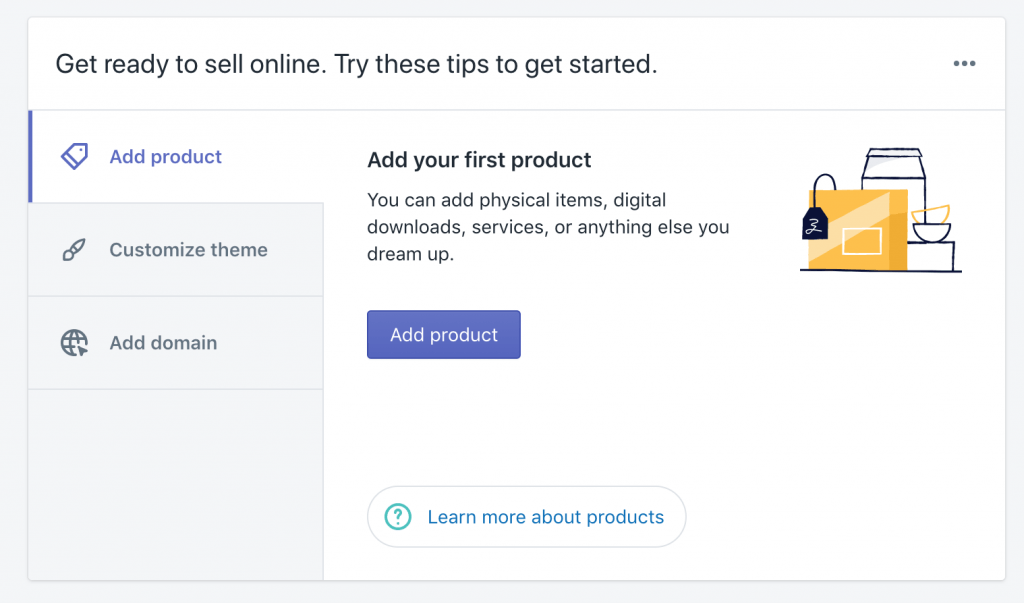 Add all the products you want to start selling. Make sure you have all the information you need at hand.
Product title
Product description
Professional photographs (Use Fiverr if you don't have professional product photo's)
Pricing
SKU number
Barcode
Amount you have in stock
Weight
Etc.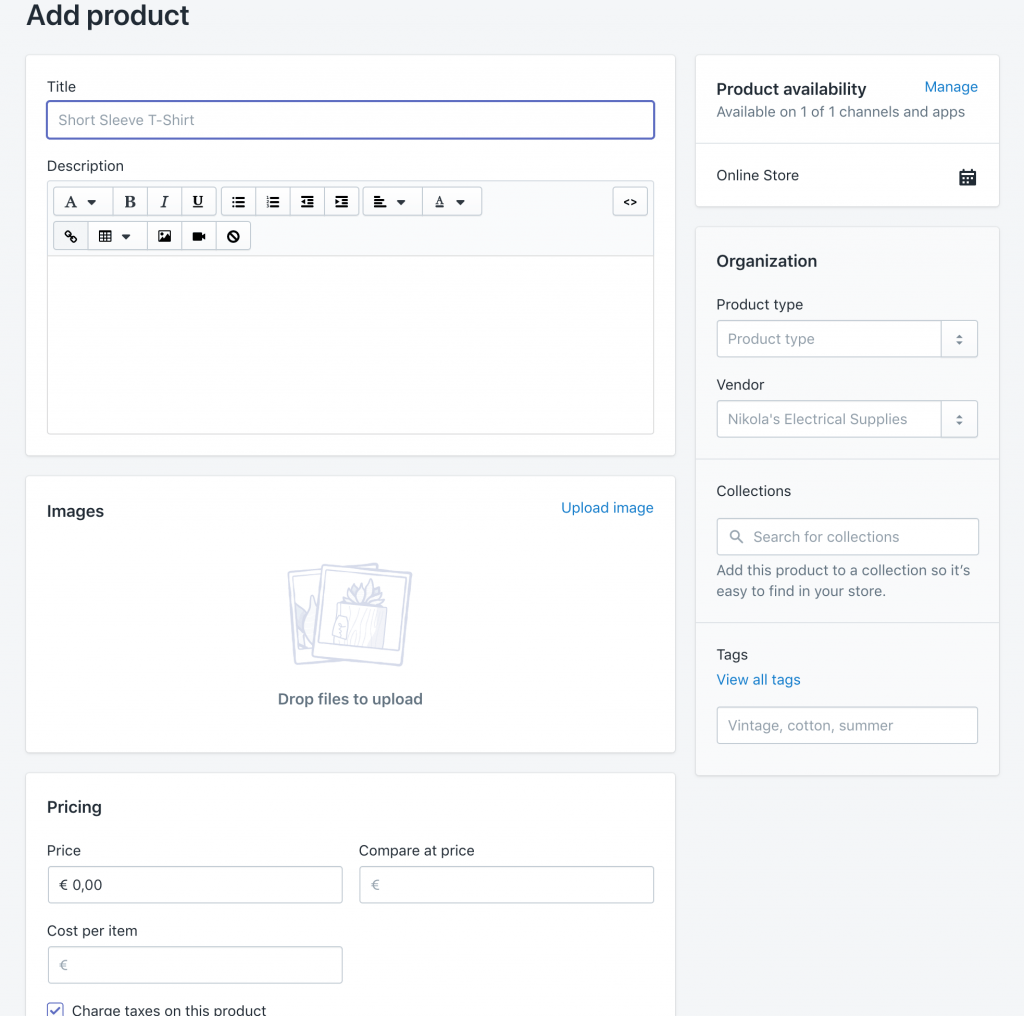 Once you've a few (or all) of your products. Move to the next step. Choosing a (free) theme.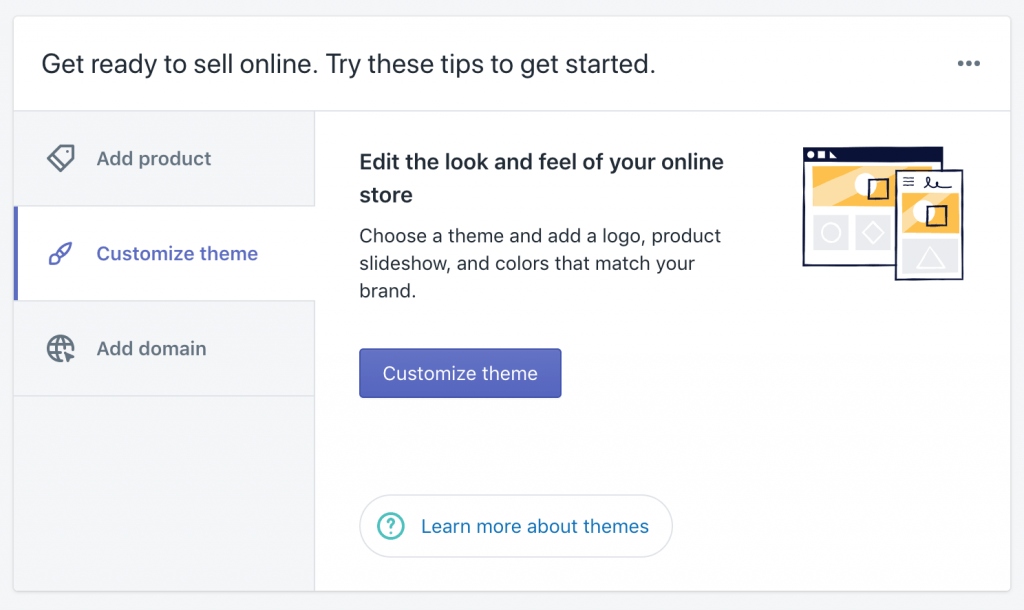 There are about a dozen free high quality themes you can choose from. You can always customize later. It's important to go online first and learn what your customers want.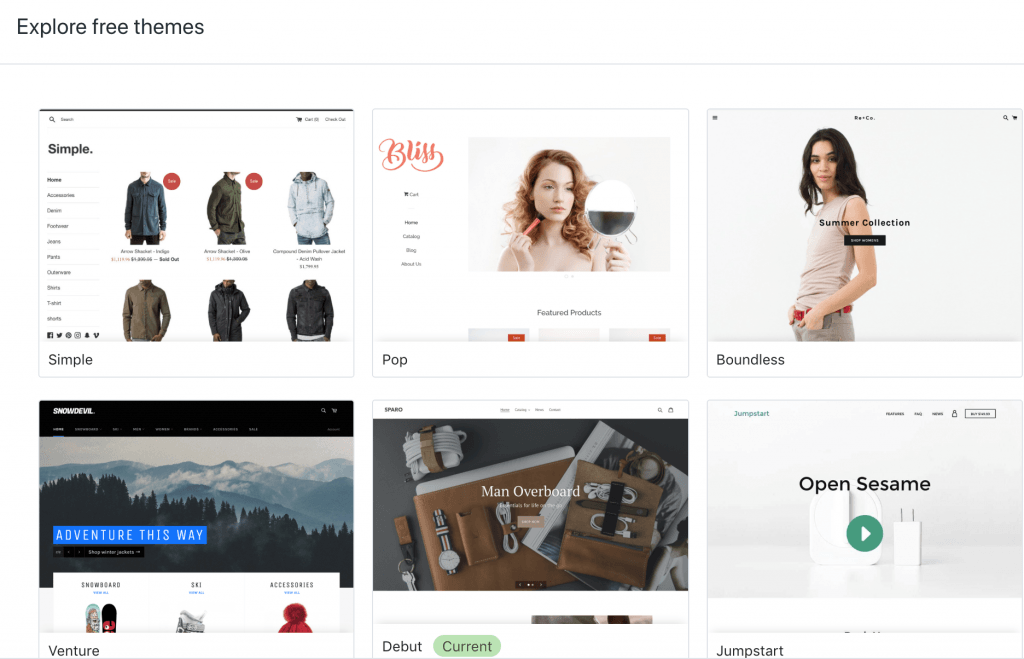 Choose one based on how you feel about it. Technically they work all the same. Just make sure you feel comfortable with it. All themes have multiple colour options. So if you don't like the light version, there usually also is a dark version and vice versa.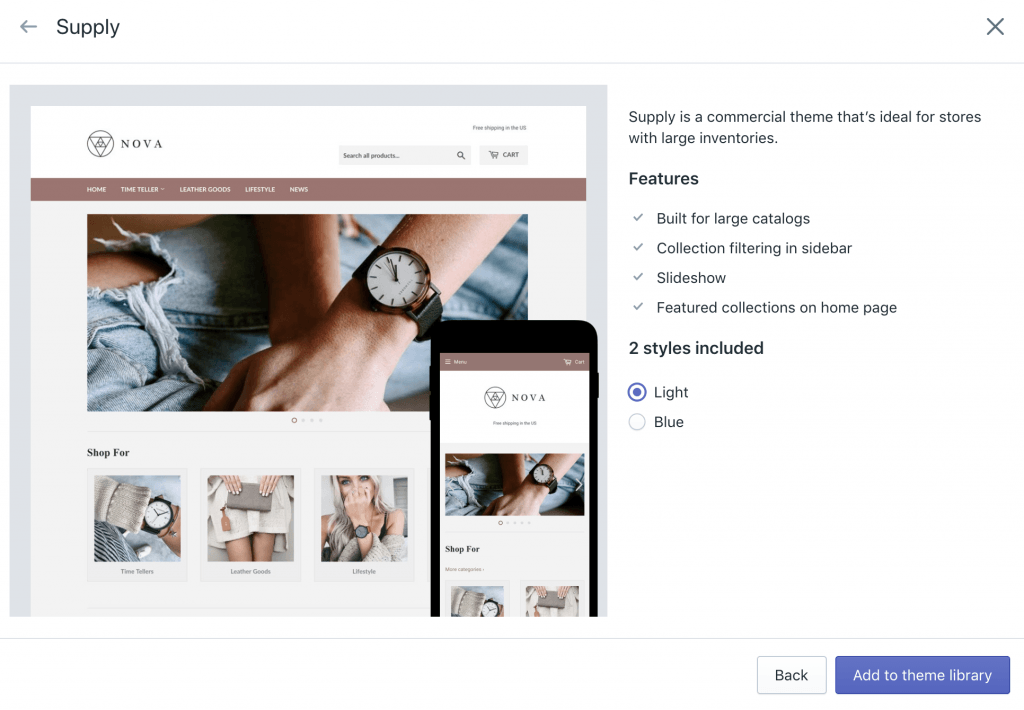 Once you've selected your theme it's time to connect a domain to your Shopify account.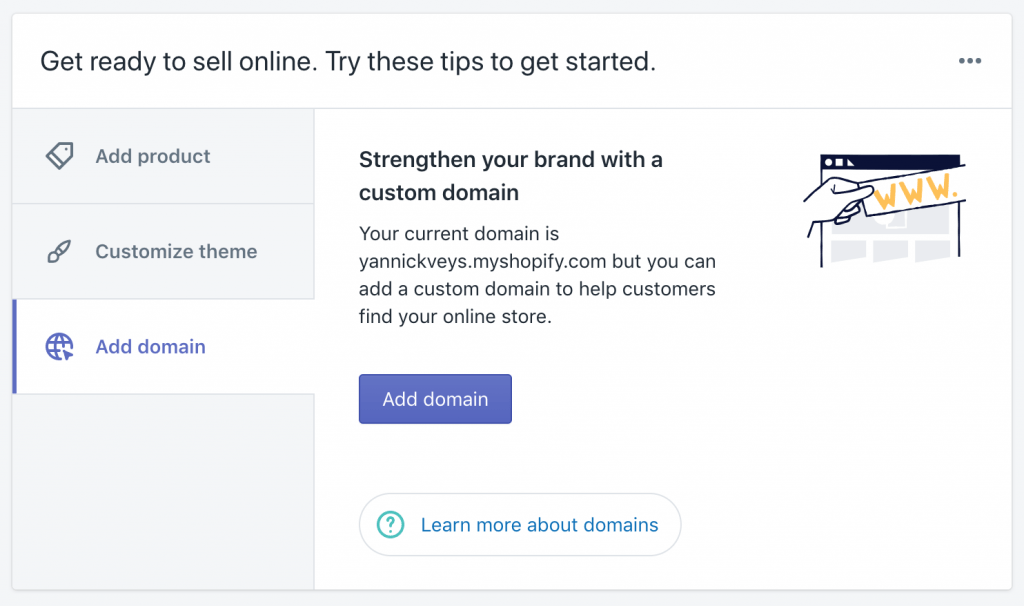 You can either add an already existing domain you purchased or buy one through Shopify.

I already have a domain I want to connect.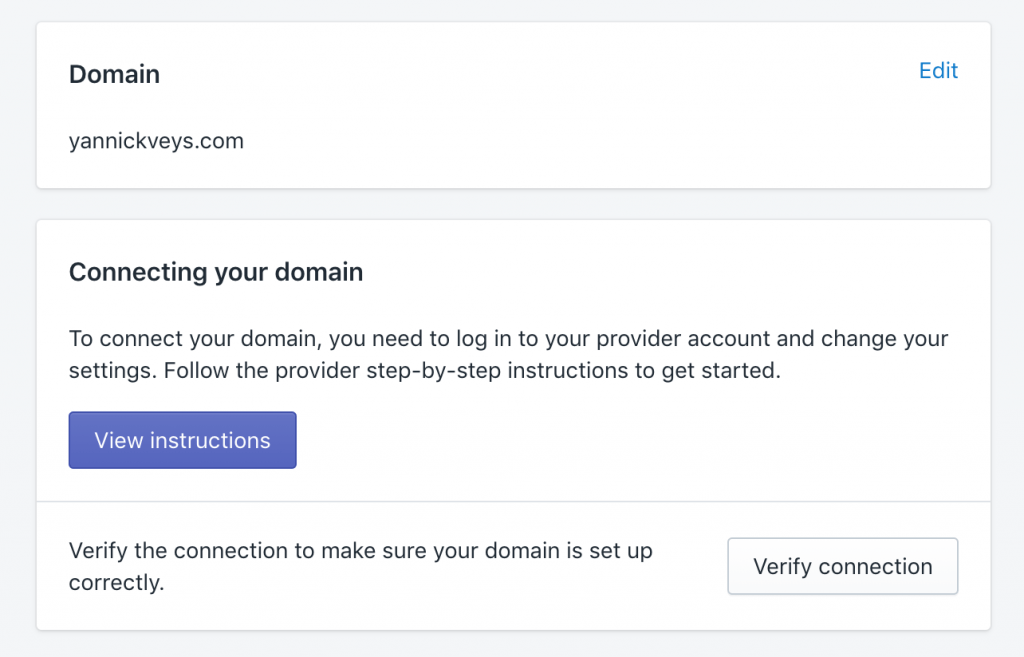 Once you added your domain you have to go to your hosting provider and change some DNS settings. This is probably the hardest step. If you don't know how to do it, contact your hosting provider directly and show them this image. They'll know what to do or can direct you how to do it.

Once you've taken care of the above things there are just a few more things to do. Go to Settings (Bottom Left) and click on Legal Pages.
Fill in the Refund Policy, Privacy Policy, Terms of Service, Shipping policy, etc. If you don't know what you're doing, consult a lawyer. To get you going… Visit other Shopify Stores to checkout what they mentioned in their policies. Do remember that every store is different and every country has it's own set of rules you have to abide to.
If you have any questions about any of the above mentioned platforms, please leave a comment and I'll try to help as much as I can.
6. Take care of the necessary paperwork
You're almost ready to open your doors. You've gotten familiar with your online store. You know how to add products, add shipping rules. You made your store look nice with a (pre built) theme. You can start buying your first products and even more important start SELLING them too!
But before you become a real entrepreneur, you have to do some paperwork unfortunately. If you're serious about doing this… Go to your local chamber of commerce and register your company. File a form to your local tax authorities to get a Sales Tax ID (or VAT or equivalent ID).
I'm not a World Wide Tax Expert so always consult with a local accountant to make sure you're following the rules.
In the United States they work with something that is called a Nexus. You have to pay State tax if you have a presence in that State. So if you only sell from (your garage) in California and have no other physical presence (meaning: no stock, people, warehouse) in any other state you have 1 Nexus. You only have to file for Sales Tax in one state.
When you're growing and start to have other locations, you'll also gain more Nexus. That's one of the benefits of being an online store. People who order at your store (in The United States) but don't live in your state you have a Nexus in, don't have to pay sales Tax.
You need to go to the State's Department of Revenue to file for a Tax ID. You need to do that for every State you have a Nexus in and BEFORE you start collecting Sales Tax.
This is also where the burden of having your own business comes in. For every Sales Tax ID you have, you have to file for Sales Tax every month or quarter.
Depending on where you live in the world you have different Tax requirements. Here in The Netherlands I have to file my taxes once every quarter. I pay my income tax, because I'm an entrepreneur, directly to the tax authority on a monthly basis as a provisional sum because I'm never exactly sure what I'll earn in a year. This way I avoid paying interest on the amount I own for my income tax. It saves me more than a thousand Dollar per year.
7. Start your first (online) marketing campaign
When you build it they will come doesn't count for online stores. Nobody will know you exist when you just start out. No one will find you. You're basically a ghost. Take that into account 🙂 This is not for the faint of heart.
What do you do when you've done something exiting? You tell you family. You tell you friends. You share it on Facebook and on Instagram. DO. IT. NOW!
See what people think of who are close to you first. Call them, ALL. Ask them, beg them, to visit your store and give you pointers. Listen to what they have to say, How can you make your store look more trustworthy. More personal. More you?
Make the changes the majority of your inner circle suggest. Only question them if you're really sure you want to do something else. Usually other people can see things better than someone who's judge their own meat.
Once you've made the changes, call your friends and family again. Ask them what they think now. Are they happy??? Good! NOW you can start to spend some cash and see if you can make more.
You can market your online store through different channels. It depends on what kind of products you sell where you should market your products.
Where can I advertise my online store?
Google Ads
Facebook Ads
Instagram Ads
Twitter Ads
LinkedIn Ads
Email marketing
Pinterest Ads
Facebook, Instagram and Pinterest can be used to create market demand. This is mostly useful if you have products people don't know they want yet. Like a backpack that has a zipper close to your back so you can't get stolen. Or a towel that doesn't hold sand when you're on the beach. These are products you've probably never seen. It's not something you actively search for. You, as a store owner, have to create demand for these kinds of products.
Google ads
This is a platform you want to use when there's already demand for your product. A running shoe. An avocado slicer. As I mentioned earlier, you can use Google's Keyword planner to see if there's demand for you product.
I'd suggest to only advertise on Google and not on their content partners / Google's Display network first. You get the highest quality traffic when you advertise directly on Google.
As a Google Partner I receive voucher codes where you get between $50 – $100 free advertising. If you want to start with Google ads, leave a comment and I'll send you an email if I have a coupon code left.
Facebook Ads
You can use Facebook both to create demand and to convert (existing) demand to sales. This works best if you already have an audience which you sold to. You can create an audience on Facebook and create a similar (look a like) audience from your known buyers. 100,000 people who resemble the people who already bought from you will be added to a list.
Facebook has an extensive list of ways to advertise. You can generate leads. Create demand with video views. Drive sales through product ads.
Instagram ads
Instagram has 2 ways to advertise. You can add sponsored stories to peoples timelines. You can literally tell your story to other people.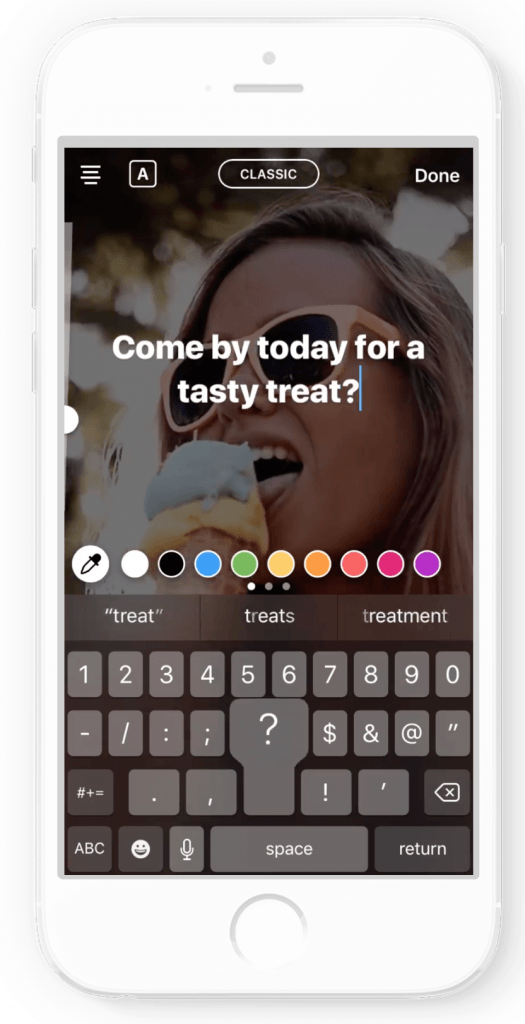 Or you can just show up in peoples timeline.
All advertising is run through Facebook's Adsmanager. You can select on what ad network you want to run. The type of ad decides where it can be shown.
Instagram is a place to be for all new online store owners who follow the customer intimacy model from Tracey & Wiersma. The visual way you communicate on Instagram is a great way to become intimate (in a professional way) with your followers.
Twitter ads
Unless you already have a presence on Twitter, I wouldn't suggest advertising on Twitter. You can always test if the audience options work for you. Twitter has become a pretty niche platform. Definitely worth your while if you're already on it and built a following. Not so much so if you've yet to make an account. Getting organic followers on Twitter is a lot harder than on Instagram. So if you still have to start with any of these 2 platforms, I suggest you start on Instagram and see if you products and your story get some traction on it.
Email marketing
The first thing you should do once you start your online shop is to add a form where people can signup to your newsletter. Be up front with it. Just offer people a 10% – 20% discount. (Experiment a bit with the different offers to see what converts best with the lowest loss of margin)
It's important to stay in contact with your buyers. Email marketing is by far the least expensive marketing channel an online store can have. Take advantage of it.
Email marketing is also a great way to automate your sales. You want to get about 50% of your email marketing sales from automated messages. Abandoned cart emails. Happy birthday emails. 4th of July. Fathers day. You name. Set it up once. Keep getting revenue over and over again.
Pinterst ads
Pinterest is the inspiration platform. Mostly used by women. But everyone goes there because they don't know what they want yet. They know they want to get married, redecorate their home or plan a holiday. But they don't know how and what yet.
An excellent time to get in front of an audience and get in their evoked set. Meaning: the brands / products they evaluate before they make a purchase. This is the beginning of the sales funnel. The moment you want to shine and show yourself as a genuine alternative to all the things that are already out there.
Bonus tip
From the moment you start your online store, you should be very active with SEO (search engine optimization). It's the art of getting people to your store without having to pay for it. You rank high in Google's Organic results and that gives you a constant flow of free visitors to your website.
Use Google's Keyword Planner to find out what the search volume is on your (product related) keywords like we did earlier. Do it more extensively now. You should create a list of at least 50 – 100 keywords.
Use Wincher to track your rankings in search engines. If you don't know where you are, you can never measure progress.
For the 50 – 100 keywords you found, do a search on Google. Have a look what results come up. Are there only text results? Or do you see video results, image results and map results too? Click on each and every result and find out what's behind the click. Why does it rank top 10?
You should create a list for every keyword to help you "win" in Google. Meaning: write down what you see in the top 10. What haven't you thought about? Why is this image ranking so high? Why is this video here? How come this article made it in the top 10?
You should try to do a 10x better job. Add the information you're missing on your product and category pages. If you do, you'll gradually end up in the top 10 as well. But not without this:
You need links from other websites!
If you don't get links from other websites, you'll never rank high in Google (or Bing). It's the number one ranking factor. If you know any friends or relatives that own (personal) websites, ask them to link out to you.
Do you know anyone in your niche that has a website? Hook up with that person and see if you can add value to their website by providing them with a guest post.
I'm going to make some guides for all the mentioned marketing platforms / channels. I'll walk you through how to setup your own campaign and how to measure results.