A big part of link building these days is getting in front of someone else's audience with a guest post. For years Google (in the name of Matt Cutts) has been telling us that Guest Blogging is dead.
His main concern was that a lot of websites have changed their linkbuilding tactic to nothing more than spamming a lot of websites asking them if they can add a paid "guest blog" just for getting links that pass PageRank. Obviously, if that is your plan, please stop reading this blog because I'm not talking about the spammy route to guest posts.
What is a (good) guest post?
I'm talking about the high quality, thorough, 1000 word absolute minimum guest posts that are submitted and accepted based on their merits. Based on the fact that you've proven yourself in the past. Your website or company is a respectable business and you want to add real value to a website and its readers. Not just posting a 500 word blog post with poor spelling and with only one goal in mind: linkbuilding.
Guest posts are about relationships
This post is about landing your first guest post. This blog isn't up and running yet. That's why I'm creating this post. Because I want to show you how to get your first guest post. You should start early with outreach and relationship building because landing one will be harder that you think.
Before you can build the relationships you should know what websites are accepting guest posts and what websites are related to your niche / are in your league.
Because this is a new website I can't just contact Forbes or the WSJ and ask them if I can publish an article on their website. Their answer will be: No way Jose.
You need to get in front of people who can give you guest post opportunities. Opportunities can be taken. But you need a set of basic requirements before you can go "out" to land your first guest post.
A website with body. Not something you started yesterday which has 3 posts containing 300 words each with 1 image and 2 links to your affiliate programs.
A clear vision of what type of guest blog you want to write
A set of websites that meet your requirements for size, readership demographics and niche
A great, can't say no to, "ask"
Start with collecting a list of websites that accept guest blogs
Anything is possible. You can contact any website and ask if you can guest post on their website but if they have no mention of being a contributor it'll be a lot harder for you. Some websites simply don't accept these.
Use these keywords to find guest post opportunities on google
guest post
submit article
submit post
suggest article
become an author
become a guest writer
"guest post by"
"post courtesy of"
posting guidelines
send a tip
submit content
looking for writers
writers wanted
become an editor
I did the search for my keyword +"guest post" and landed a lot of opportunities just for that one keyword.
Twitter is also a real nice resource to find guest post opportunities
You can do similar searches on Twitter and find lots of guest post opportunities. Usually ranked by when they were posted you can even select which ones were posted recently and contact the authors to tell them how great you think their guest post was and how they landed it in the first place.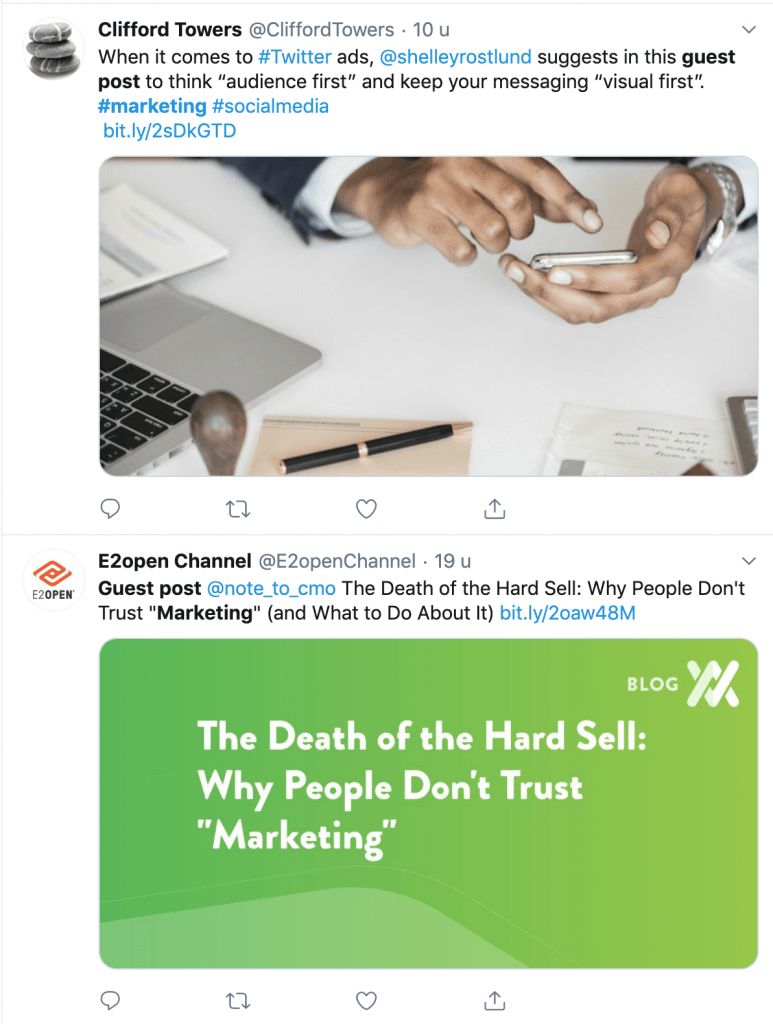 For every domain I find I check their Domain Authority with Moz.com Link Explorer tool. In my opinion they should have a DA of at least 20 and more than 100 links to their domain in total. I also check if they accept comments on their (guest) posts. I want to do a few guest posts where I give away a bit of my time to help small business owners but they need to be able to comment on the blog for it to work. So based on if those blogs accept comments I'll suggest different blogs.
Same goes for if they're a competitor. I also like to rank for start a blog. So if I contact someone who's into the same niche I'm trying to stay away from keywords that we both want to rank for. The first reason because I don't want him/her to think that I'm a threat. The second reason is because I'll try to outrank them with my own content of course 🙂
Lastly I list the guest post guidelines if I find any.
To summarize, this is what you want to see in your guest post opportunities:
High authoritative websites
They rank for numerous keywords (not just related to their brand name)
Are related to your blog (same niche or industry)
Post high quality content (skip the blog when you see a lot of 500 word posts with 2 outgoing links and no internal linking)
Have a (large) social media following
Leave you with enough room to mention yourself and your site, not just in the author box
If you still have trouble finding guest post opportunities try these lists
Once you have some guest post opportunities think what you can add to their website
I now have a list of about 20 blogs that I can use. First thing I do is check them all. See what they're writing about. Am I the fifth wheel on the wagon? Or can I really add something to their blog?
If I'm the fifth wheel, what can I do / how can I change my approach so I CAN add value.
When I see a lot of potential for a guest post I try to come up with a few angles. What blog posts can I make? What haven't they written about? Or what have they written about but years back? Anything older than 2 years is up for grabs in my opinion. Use the "year" as an anchor to get them interested in your guest post.
They've allowed a guest post about a similar topic a few years back. You're here to add a similar post but with all new 2019 and beyond perspectives.
Create a couple of dummy posts as guest blog
Start writing a few guest posts like you already landed an opportunity. You want to have a few examples you can send out to the blog once they're interested in your guest blog.
Even better is to post your first guest post on a blog from someone you know. Make sure it is top notch so you can refer to it for a long long time.
Get your first blog post live on a website from someone you know
I'm going to post a guest post on one of my own blogs to give myself a head start. Find a friend or relative who owns a blog in a niche that's remotely related to yours.
The editor from the website that's considering your guest post won't go through the entire blog. What they will do is check your writing style. If your grammar is perfect. If you make enough use of (sub)headings. Most important: they'll check to see if you're not a web spammer who only points anchor rich links to his own domain and domains from his clients (obscure websites no one has ever heard about).
Comment on blogs from websites that allow guest posts
Before you can even think of landing your first guest post you have to be on someone's radar to consider you. Using the contact form should be last resort only. Try to get into contact by following someone on Twitter. Retweeting them. Adding value to their website through commenting.
If you shoot, make sure you hit the target
The website owner should know exactly what kind of content is a hit vs content that doesn't move the needle. You should too. Run their blog through Ahrefs or Buzzsumo to see what content is shared most so you can suggest a topic that has already performed well in the past.

If you can pitch a story that has done well in the past, chances are high you'll land a guest post easier.
Reaching out to your targets
I mentioned this in my post about linkbuilding I don't like the tried and true form of pitching for a guest post like this:
Hi [Website name],

I'm a long time reader. I love your posts. Especially this one [link] where I left a comment.

I'm writing you because I'd love to contribute to [website name again].
Yadayadayada.
Be graciously direct when pitching your guest post
This might be a European thing but I think this is just too much. How many emails do you think they receive like this? I, with one < DA 50 blog, receive 3 of these PER DAY. Thats over 20 per week. They're coming out of my nose.
Be more original than this. Love is for lovers or family and friends. Love isn't used in a pitch. Mentioning their brand name 2 or 3 times in as many sentences is also a bit too much. I would be more direct. They have a big sign in their yard that shouts: WE ACCEPT GUEST POSTS and you're going to beat around the bush?
This is how I pitch guest blogs. Starting with the subject of my email… I would make it quick and easy. Something like: quick question
Hi [first name of website owner],

It would be my honour to contribute to [Blog name].

I've already come up with a few ideas that I think would really resonate with your audience

idea 1
another idea
my last idea

I'll make sure I include links to your other blog posts and to this [link] cornerstone content which I really like.

If you want to check out how I do guest blogs, here's a [link] to a guest post I've recently written.

I look forward to hearing from you,

Best,

[Your name]
Why is this a good pitch?
This is how normal (business) people communicate. Editors from blogs who accept guest posts probably get requests multiple times a day. You want to come down to the bottomline within the least amount of words possible. This entire email is less than 100 words. It's a 10 second read.
Don't overcomplicate things. The value you bring in your email should be the ideas you pitch. The fact that you followed them and commented on their pieces should help you get a little bit of familiarity bonus. But that's it.
Always follow up on your pitch
If, after a week or so, you haven't heard back from the website, contact them again. It's a tried and true method. Your conversion rate to landing a guest post will more than double if you follow up.
Don't overdo it. Give them some time and space. Don't send a follow up writing 72 hours of you sending the initial pitch. Don't send a second follow up any earlier than a week after the first one.
Change your "tune" when you send the second reminder. Something like: Did I say something wrong? I must have completely missed the mark with my ideas? Never point the finger at them with stuff like: you must be busy. Make a light remark to try to get a connection going.
Now for the real stuff, writing your first guest post
Let's first start with mistakes you shouldn't make.
Don't do this when guest posting
Only use words in your guest post
The use of stock images (or copied images)
A few external links
No internal linking
If you DON'T do the things listed above
You're content will be seen as more valuable
Google will not see it as (low quality) SPAM
You'll look more professional
Have another resource you can mention when pitching guest posts
Get more engagement on your post and more visitors
Like I mentioned before, I have a blog that accept guest posts. I don't accept all the submitted articles on that blog. Why? Because some are really low quality. I'm sometimes very explicit to people who reach out to me so they know what to do if they're new at guest posting.
I don't want blog posts which only include words and bad use of (sub)headings. I want a visually appealing piece everyone wants to read.
An editorial piece of content is a piece that gives value. That uses content that is already on the same domain and that links out to resources that are valuable on other domains. If you only have 2 or 3 links in your guest post which link back to your website, that's not going to go down well.
Chances are your guest post won't even be accepted.
Split your target websites in 2 or 3 groups
You can only write so much content per week. If you're a normal guy/girl I mean. I wrote, just this week alone 25,000 words. That's because of my challenge. I need to write 100,000 words in 30 days and I'm a little behind my target.
But for a normal human being if you write 5,000 words per week, that's already quite a lot. Definitely when it's jam packed with actionable advice and screenshots and what not.
So in order to spread yourself according to the value you're gaining from your guest post, make sure you split your target websites in a few groups.
Go for the Hero hub Hygiene strategy
I try to use Google's Hero Hub Hygiene/Help rule of thumb. Hero content is your best content. This is the stuff you make that would be great on your own blog but would be OUTSTANDING on someone else's super popular website.
You want to leverage a super popular website with your hero content because you'll get 10x the amount of shares, links, mentions, traffic if you post a Hero piece on that website vs your website.
Hero hub hygiene explained
Hero content is posted only a few times per year. This is something you only make for DA 80+ websites with huge amounts of traffic. I have something planned for Medium later this year that should really rock. This is 3,000+ words of content. Maybe even with video. Resources / actionable advice not found anywhere else.
Hub content is content that could be a returning item on a well known blog. It's used to build your brand. A returning item on a blog where you post a similar type of message with similar writing style and visual style to build recognition and (brand) awareness. 1,000 – 2,000 words content that's nice to consume. Doesn't need to be state of the art. Can be easy to consume content. Post these kind of pieces on blogs with DA 50 – DA 80.
Hygiene (or helper) content is your daily stuff. You post this on lower authority blog with less traffic and social following. You should still really add value to the blog. Add internal links. Link out a lot to interesting content and make sure that this content is on par with your smaller pieces on your own blog. These pieces can be submitted on websites with DA 20 – DA 40.
Don't copy content from your own blog
Create new content. Don't copy and paste some old stuff from your old website that you're repurposing one on one.
Of course it's okay to use things you already mentioned on your blog but you want to give the value the other blog deserves. Plus you want the guest post to rank in Google too. Higher rankings for the guest post mean more shares means more links and more traffic to your blog. Try to be a bit smart about what your title's going to be so you don't cannibalize too much on your own traffic.
Respond to comments on your guest post
Don't hit and run. When you submit a guest post you're in it for the long run. That means you should check the guest post daily for 14 days for any comments.
A good strategy to follow is to immediately post a comment on the blog. You can sometimes follow comments. So when your post receives a new comment you'll get an email notifying you.
Being the first to comment on the post also invites others to comment as well. You're creating more engagement and give people the trust and security they need to comment too.
Mention your guest post on your social media
People who follow you should be interested in what you have to say. You'll give the website where you posted on some traffic love and your blog post will get some extra social love too. The better your guest posts perform, the more likely you're asked back to do another post and the more you can use your previous guest posts as a portfolio to gain new opportunities.
Always say thanks
Didn't your mother and father teach you to always be grateful? To show your appreciation? So always say thanks for the guest posting opportunity. This will go a long way because not a lot of people do this. You never know what comes out of a thank you. Maybe the editor in question knows another editor at a different blog who's also accepting guest posts and can introduce you?
What you give, you receive back.
You should be after traffic not just links
Yes, links are important but traffic is the reason you have a website in the first place right? It doesn't matter how yo get your traffic as long as you get more right?
So concentrate on websites that have a lot of comments. If blogs receive a lot of comments it's evidence of one thing: an engaged audience. And engaged audiences click through to your website more often.
They're also not the hit and run type. They read this blog because they really want to learn something. That's different from a news website or a lifestyle blog where people are in a more passive state of mind. They just want to kill some time. Those websites might receive 10x the traffic but will send less traffic than websites that have a more engaged audience.