Being a small business is hard. There's no way you can compete with the big boys on super competitive keywords with huge search volumes. You can still win the SEO war if you choose the right battles though!
I'll walk you through a 7 step process that will make sure you rank for the right keywords and gain traction in search engines.
1. Keyword research
Everything starts with the keywords you want to be found on. You want to find keywords that have low competition but high enough search volume so when you start to rank at least you'll get some clicks.
Don't focus on what you think people search on. Use tools that KNOW what people search for.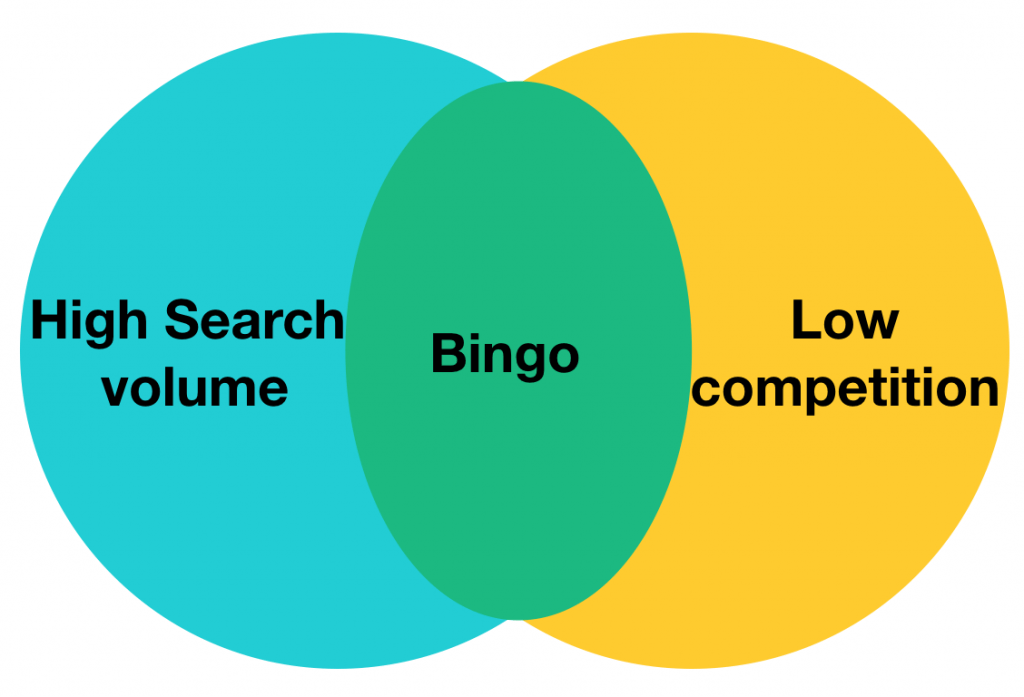 I'll walk you through a few different Keyword Tools so you can make a selection of (at least 50) keywords that you want to rank on.
You can use these tools for free. It doesn't matter if you're just starting out or have been in business for years. The only difference is that if you've been in business for a while you should check how you rank for the keywords you found before creating (more) content.
Check for search volume on your keywords
Go to Google's Keyword Planner and start filling in a few keywords your audience searches for. (If you don't have a Google account, register one for free)
Let's say you have a Flower store in downtown Athens, Georgia. I don't live there so I just checked out its Wikipedia page to get familiar with the city. Roughly 125k people live there.
Most of your sales will go through your store downtown, but you want to get more online orders too.
I chose GA as the location to start with. I want a bit broader perspective first before we dig in to Athens. Problem is: Athens isn't that big a town so we need data from another big city (We'll use Atlanta) so we can cross reference and calculate search volume for Athens.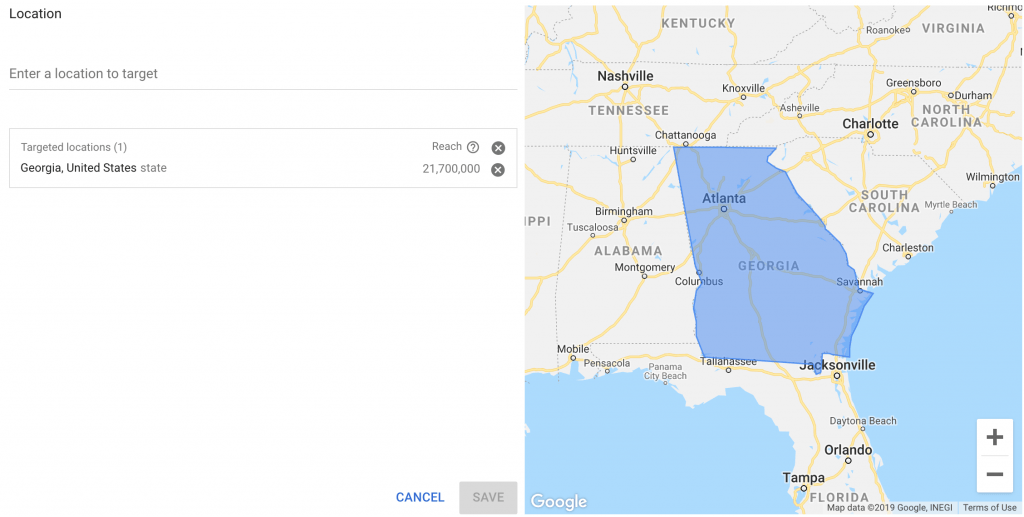 Next I fill in a couple of search terms to check out the flower business. I'm not a florist so I have no clue.

Next I click "Get results" to see if and which keywords have search volume.
Yeah. So, flower delivery is a lot bigger than buy flowers. Put keywords on your list that have a minimum of 100 searches / month.
Below the 3 keywords I entered I also get keyword suggestions. Now here it starts to get interesting because I get keywords that I didn't think about.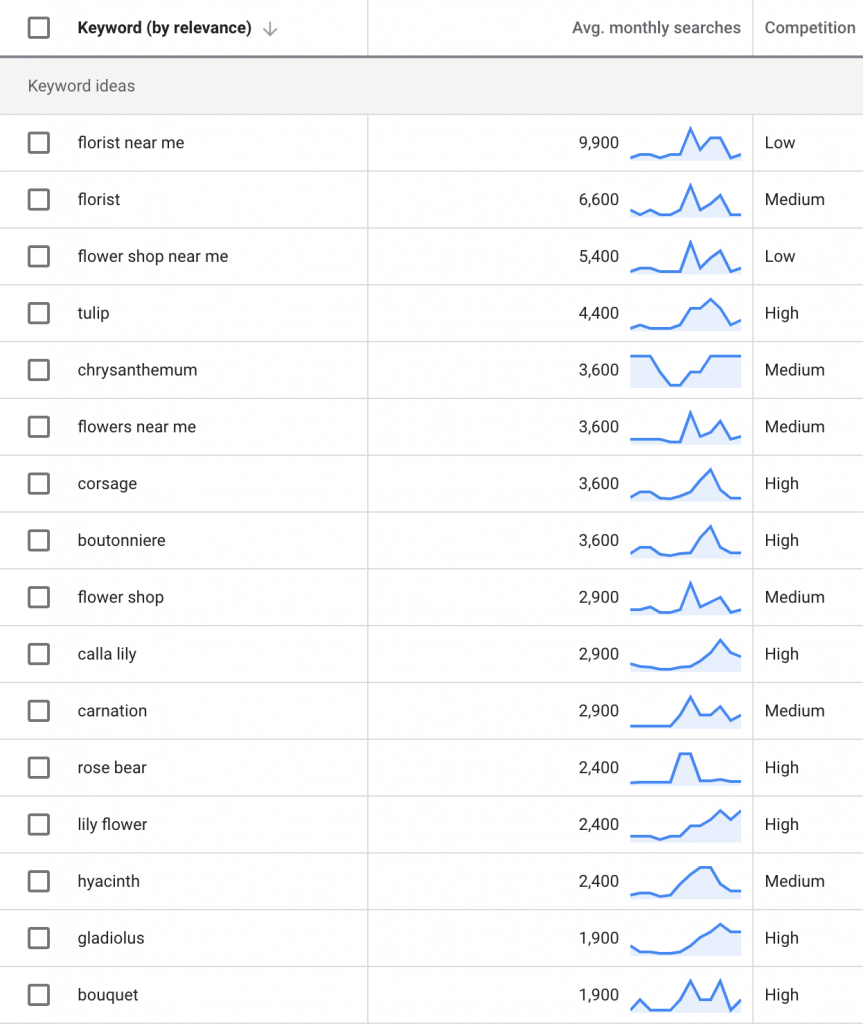 Florist is interesting, same as corsage and carnation. Carnation brings me to funeral. Corsage to wedding. So I do another search.
Here are at least another 10 ideas I can use. Bridesmaid, bridal, flower arrangements.
Keep playing with the Keywords Planner for another 10 – 15 minutes to get enough ideas. Once you're done, try Wordstream's Free Keyword Tool.
Wordstream combines Google and Bing data. If you've missed a few keywords with the keyword planner, Wordstream should be able to substitute that.

You should be able to get a list of about 50 keywords with these 2 tools. Focus on both broader terms like bridal bouquet and funeral flowers and more local phrases like "order flowers online athens ga".
The last tip I want to give you is to check the "people also search for" box at the bottom of the page when you perform a relevant search. You'll get new ideas there too, like "gift baskets".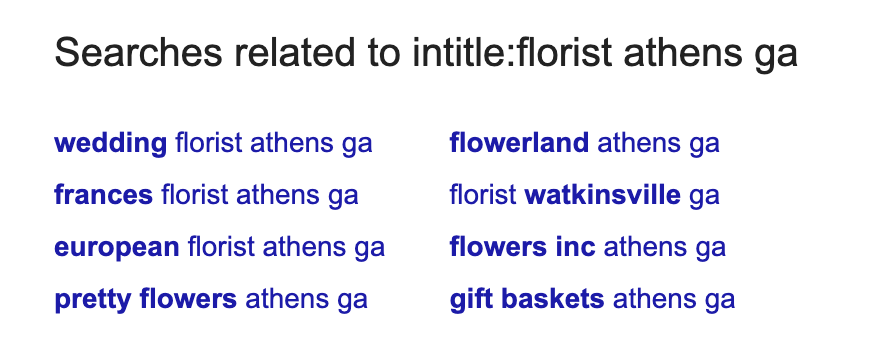 Check the competition on the keywords found
Now that you have a list of keywords with some volume you should find out how high the competition is.
The easiest way to find competition is by Googling: intitle: "your keyword"
Here are some results. You'll immediately see where you want to focus your efforts first. There's less search traffic but you'll rank 1st page in no time.
Funeral:

Wedding:

Corsage:

Do this for all your keywords and write the number of results down in the Spreadsheet you're keeping with all your keywords.
You'll see a pattern. Now I'm not saying you shouldn't create pages on keywords with a lot of competition. I'm just saying that it's easier to rank on keywords with lower competition. They might also have a higher search volume.
Once you've created pages for all the keywords you want to rank on, you should start rank tracking them. I Use Wincher. It costs 5 USD/month for 100 keywords and I think that's pretty good value.
When you start tracking your rankings you'll immediately see where you're ranking and how the pages (and the keywords you're targeting) are comparing to each other.
Wincher also gives you suggestions after a while. So they might give you a couple of great keyword suggestions you can use on your website. Use that to add even more pages.
2. On-page SEO
There are a couple of really important things you can do ON your page for SEO purposes.
The three most important on-page SEO tweaks are:
Your titles (unique for every page).
Your "meta description" tags (should be very descriptive about what's on the page and should really entice people to click on your link.
Heading use (h1, h2, h3, etc)
Besides these three things there is of course the rest of what's on your page. The real content.
3. Content creation
I'll give you an example.
What would you show on a page for people who search sunflower wedding (besides the 3 things I just mentioned)?
What is a sunflower?
A picture of a sunflower?
The price (range)?
If you sell them?
Bouquets that contain sunflowers?
The option to order a sunflower bouquet online?
Pictures of previously created sunflower bouquets for weddings?
Testimonials of wedding couples / attendees who adored your sunflower bouquet?
Etc. etc.
See where I'm going? There are not a lot of people who search for "sunflower wedding" and just want to see a picture and a bit of explanation. There's usually (almost always) a question behind the question. Help them answer that question and you'll help yourself rank higher.
Do you know what pogo-sticking is?
It's something Search engines look at when ranking pages. It's when someone returns to the Search engine result page after he just clicked on a result (we think is relevant)? If that happens, then your page is not giving off good vibes to Google.
Use these 10 tips to create high CTR titles
So besides thinking of great unique titles for your pages (here are 10 tips by the way to create great titles):
Numbers (lists) in your title work great
Create unique titles for every page
Important keywords at the beginning
Make it compelling & easy to read
Add modifiers like best, easy, cheap
Use the year in your title like 2019, …
Have titles for seasonality (fall sale)
Don't stuff your title with keywords
Make your title about your page
Don't create titles for machines
Besides creating enticing meta description tags (Download Yoast SEO plugin to be able to fill in description tags in WordPress).
You need to satisfy the searchers' demand. 
Do a search for all the keywords you entered in your spreadsheet. For each keyword, look at the SERP (Search engine result page) and see how it looks.
What are you seeing?
Pictures? Videos? Maps result? Try to figure out how you can differentiate your website / webpage from the rest so you too can rank for this term.
Next: click on all the web pages in the top 10. See what they talk about. What they don't talk about. Make your page 10x better than theirs. YES, TEN TIMES BETTER!
A lot of searches for your service, wether you sell flowers or something else, will be local. Florist near me. Florist Athens ga, etc. etc. Those are all "local" searches.
4. Local SEO
In order to rank for a lot of these terms you need to register yourself for Google My Business (GMB).
Check if you aren't already registered and claim your listing if you are already listed.
Make sure you choose the right category for your listing. If you're not sure, search for a competitor and click on their map result.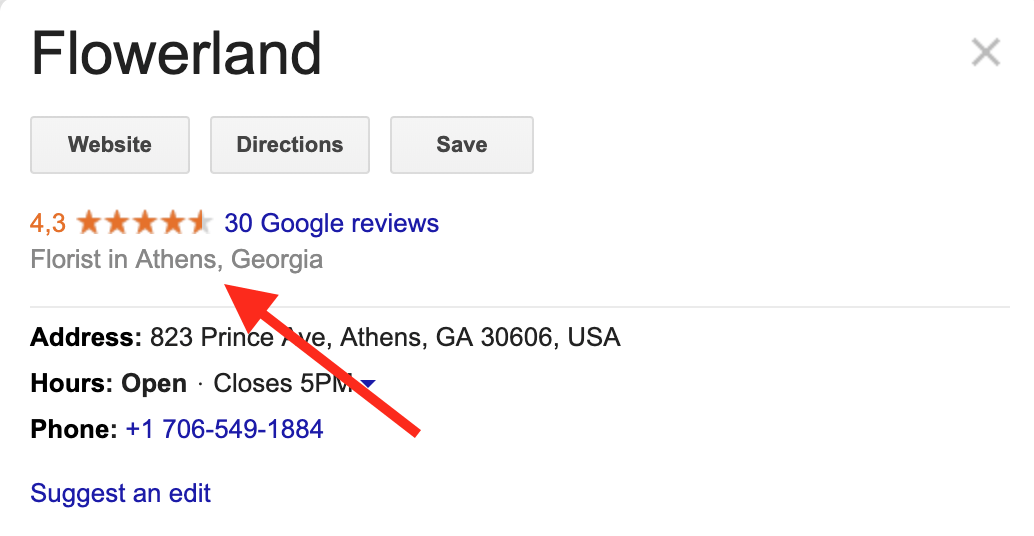 Florist is easy of course, but there are a lot of categories to choose from.
Once you've created your listing it is OF THE UTMOST IMPORTANCE that you use the same name, phone number, url, etc. on all citations (you're going to build which I'll talk about later).
There are 3 main ranking factors to rank in the local pack. The local pack is the "3-pack" with maps results.  See below.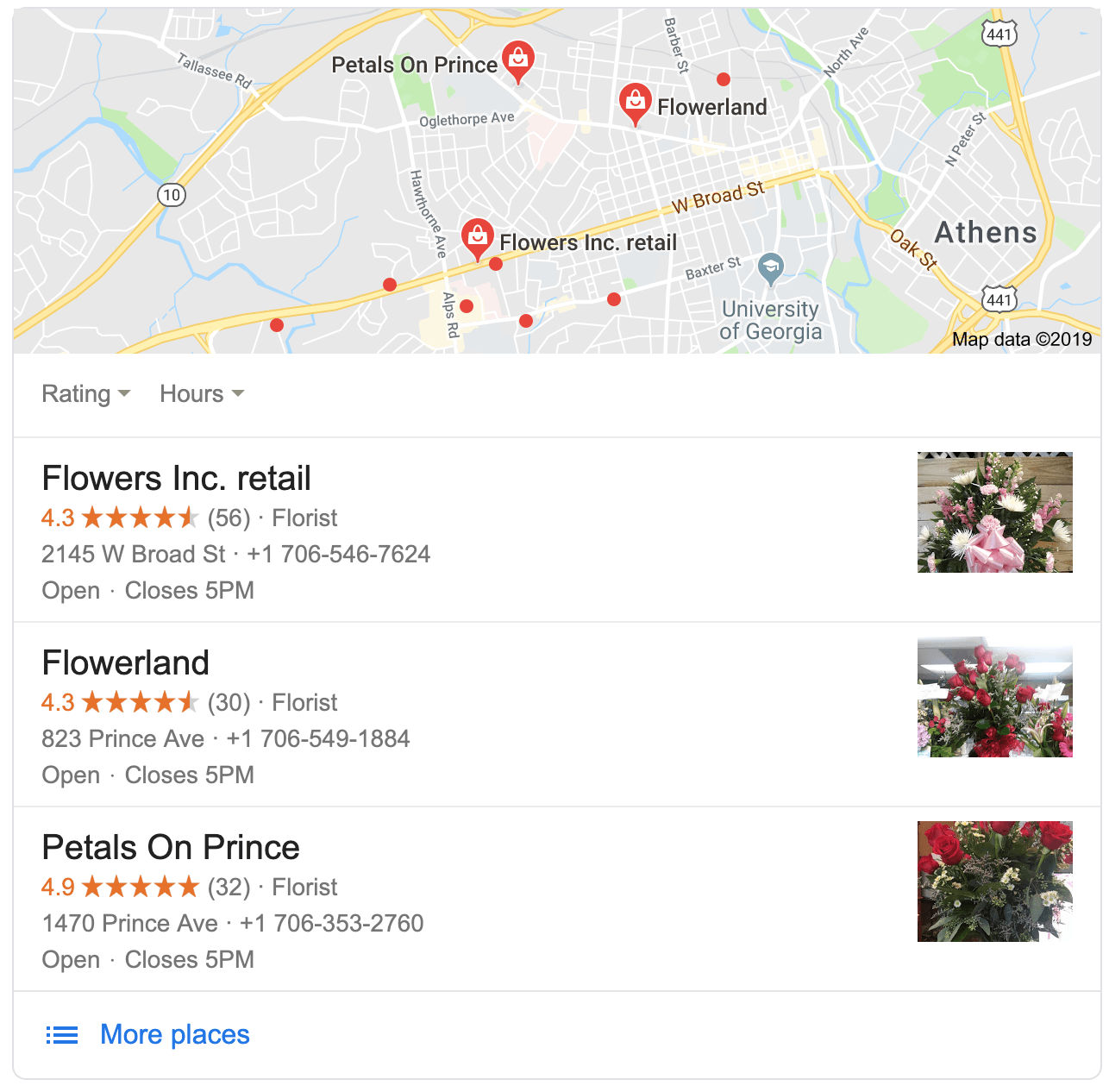 The 3 ranking factors are:
Proximity
Numbers / quality of citations
Number / quality or reviews
Proximity to the searcher
Proximity is easy. The nearest florist / store will get prevalence over others. You'll walk / bike / drive a bit further for a florist than for a pizzeria but in the end the closer the better. You can't influence your proximity to someone who's searching, but you can expand your "area of influence" by expanding the service area in GMB.
Number / quality of citations
If you only have a listing on GMB and are found nowhere else on the web… Well, that's quite strange. So you should build citations on important directories. I also mentioned that it's important to be consistent with the information you provide. Use the EXACT same info you inputted on GMB. Uppercase when uppercase was used. A space when a space was used. The exact phone number.* You can find a list of 20 of the top directories to build citations here.
*For phone numbers I have a tip. On all the external directories use a different phone number. Add it to your GMB listing as a secondary phone number. That way you can avoid sales calls from these directories but still build consistent citations.
Number / quality of reviews
Google doesn't know how good you are until your customers leave reviews. There are a lot of studies where the number of impressions your local result got skyrocketed after reviews where added.
Ask your best / most loyal customers to add a review on Google.
It's hard to send them a link to your listing or to automatically open the review form for your listing. I have a work around though and I'll add it here within a few days.
5. Marketing activities
In my beginner guide to opening an online store I mentioned these 3 Tracy & Wiersma strategies: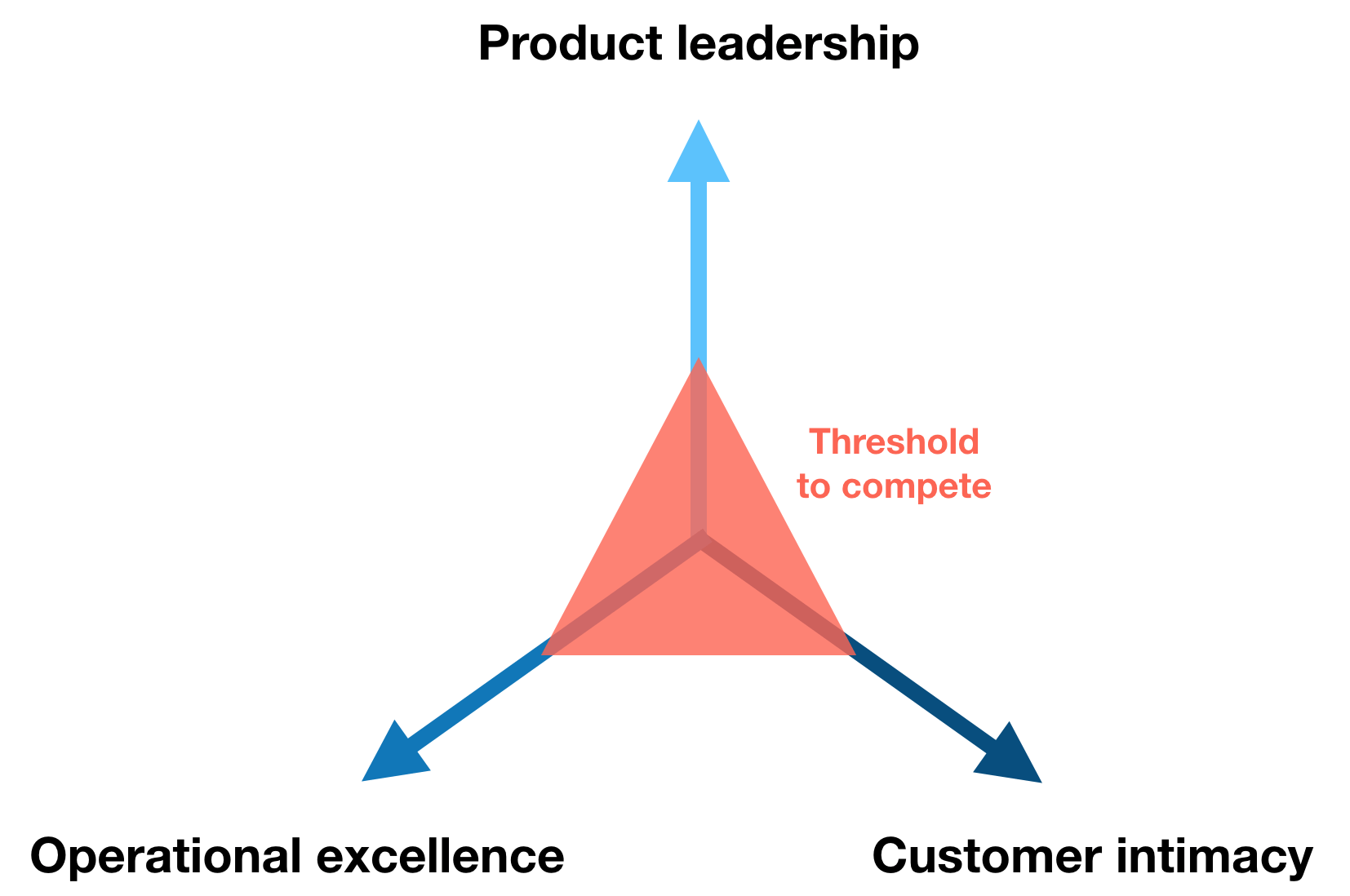 As a small business you really only have one option. The Customer Intimacy strategy.
Tell your story. Tell people why you started your business. People love stories of other people. People don't like stories about companies. Use that to your advantage. This is the best David vs Goliath strategy you can use.
And the best platforms to tell your story on are Facebook, Pinterest, Instagram and YouTube. Don't be scared to "show yourself". People love authentic unscripted pictures / movies about you, your life and your store.
Interact with other (online) stores in your area. Work together so you can outrank the big guns like Amazon.
6. Link building
The citation building is already a form of link building. You only need to do some leg work. Just fill in forms. All the mentioned directories offer free listings. So it won't cost you any money to get listed and get links.
You need links from other websites pointing to yours in order to rank higher in the search results. Both in the "normal" organic listings as the "local pack".
A small business owner usually has a small area where he / she sells his products / services. Based on the area where you provide your services you should also base your link building on. If you live in Athens GA, don't build links from California if you're not providing services there. The more you can get links from local businesses the better.
7. Know your numbers
If you don't know where your traffic is coming from, you don't know how to grow. If you don't know what your best selling flower (enter other product name here) is, you don't know how many to purchase, how to price them, how to make a margin.
Everything starts with knowing your numbers. That's the case with your business as is with your online presence.
Install Google Analytics on your website to keep track of what your visitors are looking at and where they're coming from.
If you liked these tips, share this Infographic!

Embed this Checklist on your website with this code
In WordPress, click on the "Text" tab next to the Visual tab and insert this code.